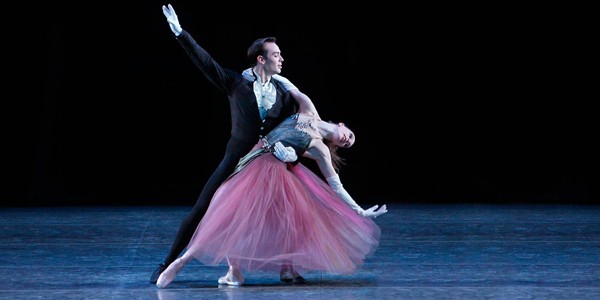 Opening Night of New York City Ballet's (NYCB) exciting two week residency at Saratoga Performing Arts Center (SPAC) will commence on Tuesday, July 7th at 8PM. The performance, All Balanchine, will feature four beloved Balanchine Classics: Square Dance, La Valse, Tarantella, and Symphony in Three Movements.
NYCB's season will feature 17 ballets by 7 different choreographers, including 4 new SPAC premieres. Two of the premieres will be works by the renowned young choreographer, Justin Peck, soloist and Resident Choreographer of NYCB. Peck's most recent work, 'Rōdē,ō: Four Dance Episodes will be first performed on Wednesday, July 8th at 8PM. Also making SPAC premieres, Justin Peck's Belles Lettres and Alexei Ratmansky's Pictures at an Exhibition will be performed at the 2015 annual Ballet Gala, The Empire Ball, on Saturday, July 11th @ 8PM. This year's Gala includes a special recognition of Gala Co-Chairs Neil and Jane Golub for over 30 years of dedicated support of SPAC. The SPAC premiere of Peter Martins' highly anticipated La Sylphide, a staging of Bournonville's ballet for the Royal Danish Ballet, will be presented on Friday, July 17th @ 8PM.
The New York City Ballet's 2015 residency will be July 7th through July 18th with performances at 2:00 pm or 8:00 pm. Children aged 12 and under are entitled to 25% off amphitheater tickets for evening performances or $5 off amphitheater tickets to ballet matinees, but excludes the Ballet Gala. Fidelity Kids Free on the Lawn for kids aged 12 and under except for the Ballet Gala and American Girl Night.
SPAC will again offer educational preshow conversations with performers and other arts personalities during its Pre-Performance Talks presented by Rensselaer Polytechnic Institute. Aimed at connecting audiences with artists performing at SPAC, Pre-Performance Talks offer the opportunity for guests to interact with stars in the worlds of dance and classical music.
Prior to performances, SPAC will host intimate 30-minute discussions with world-renowned dancers, choreographers, musicians, conductors, authors, and critics. Talks are held in the Hall of Springs Gold Room, and begin one hour before performances (1 pm for matinees, 7 pm for evening performances). Admission to the Pre-Performance Talks is $5 and requires a ticket to the performance, and seating is limited.
SPAC's 2015 Pre-Performance Talks Presented by Rensselaer Polytechnic Institute:
New York City Ballet
July 7, 7 pm Peter Martins, Ballet Master-in-Chief, NYCB
July 8, 7 pm Justin Peck, NYCB Resident Choreographer, soloist
July 9, 1 pm Conversation with a NYCB dancer
July 9, 7 pm Nancy Goldner, dance critic, author
July 10, 7 pm Robert Maiorano, former soloist, NYCB
July 11, 1 pm Costumes & Conversation with Norma Attride, NYCB Wardrobe Mistress
July 14, 7 pm Christine Redpath, Ballet Master, NYCB with Jay Rogoff, poet, lecturer in English, Skidmore College, dance critic
July 15, 7 pm Deborah Jowitt, dance critic, author
July 16, 1 pm Deborah Jowitt, dance critic, author
July 16, 7 pm William Otto, former NYCB dancer
July 17, 7 pm Mindy Aloff, professor of dance, Barnard College
July 18, 1 pm Conversation with a NYCB dancer
July 18, 7 pm Mindy Aloff, professor of dance, Barnard College