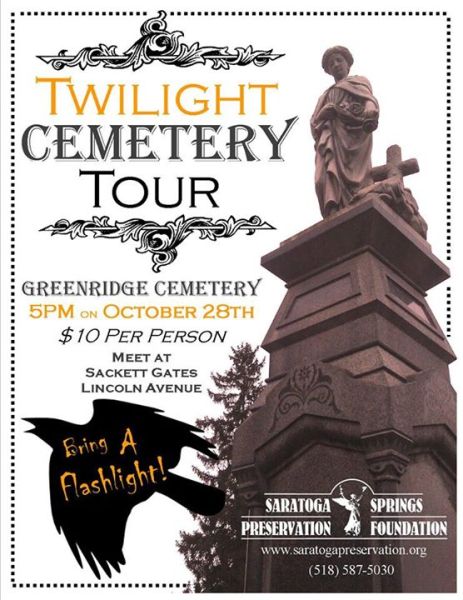 On Wednesday, October 28th, 2015 the Saratoga Springs Preservation Foundation presents a TWILIGHT CEMETERY TOUR, a rare opportunity to explore Greenridge Cemetery at dusk. Volunteer docent Jan Klassovity will navigate the tombs and monuments of Greenridge Cemetery, discussing the historical and architectural background of the American rural cemetery movement while unearthing tales of Saratoga's most notable residents. Come discover the final resting place of many individuals who made Saratoga Springs home while taking in the spooky spirit of the season!
Tour starts at 5pm and lasts approximately one hour. Meet at the Sackett Gate cemetery entrance on Lincoln Avenue. Cost is $10.00 per person. Participants are encouraged to bring a flashlight. Tour will take place rain or shine, and will include walking and standing on varied terrain. Reservations are encouraged, but not necessary. For more information or to make a reservation, please call the Saratoga Springs Preservation Foundation (518) 587-5030.
Founded in 1977, the Saratoga Springs Preservation Foundation is a not-for-profit organization that promotes preservation and enhancement of the architectural, cultural, and landscaped heritage of Saratoga Springs.
www.saratogapreservation.org