Summer at Skidmore — 2017 Special Events
Located at the edge of downtown Saratoga Springs on a beautiful 950-acre campus, one of the country's outstanding liberal arts colleges, Skidmore College is alive with activity all summer long. Public events fill the calendar from Mid-May to August. Only a short walk up North Broadway from the heart of Saratoga Springs, Skidmore's campus boasts the Arthur Zankel Music Center, The Tang Teaching Museum and Art Gallery, the Janet Kinghorn Bernhard Theater, and the Schick Art Gallery.

World class music, theater, dance, art, and literature thrive during the summer months. Skidmore is home to the New York State Summer Writers Institute, the Skidmore Jazz Institute, the SITI Theater Workshop, the Decoda ǀ Skidmore Chamber Music Institute, the Dance Workshop, and the John B. Moore Documentary Studies Storytellers Institute. The events associated with these programs offer the public a chance to partake in the bounty of cultural riches being explored on our campus. The highlights of our season are shown below. For ticket information, further details, and to view our complete line-up see our Summer Events.


The Tang Teaching Museum, one of the nation's leading teaching museums, fosters formative connections between contemporary art and students of all ages. There is no charge for admission, and the Museum is open from noon to 5 pm Tuesday through Sunday, with extended hours until 9 pm on Thursday.

Skidmore College Admissions office is open all summer, too. Prospective students and their families may schedule a visit from 8:30 am to 4:30 pm Monday through Friday and Saturday by appointment. If you are planning a campus visit, we recommend you call in advance: 800-867-6007.

Directions to our campus can be found here – we hope you'll visit us soon and often!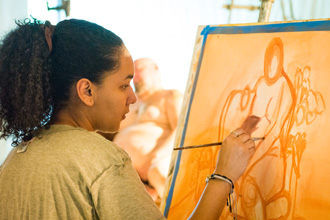 MAY
May 13
The Manhattan Transfer
, 8 pm, Arthur Zankel Music Center, Skidmore College,
www.skidmore.edu/zankel
, 518-580-5321
JUNE
June 2 & 3
Suzuki Company of Toga Japan presents The Trojan Women
, 7:30 pm, Bernhard Theater, Skidmore College,
www.skidmore.edu/zankel
June 15
Stephen Petronio Dance Company
, 7:30 pm, Arthur Zankel Music Center, Skidmore College,
www.skidmore.edu/zankel
, 518-580-5321 other public events tba
www.skidmore.edu/summerdance

June 20
Mozart in Havanna
, 7 pm, Simone Dinnerstein with the Havana Lyceum Orchestra, Arthur Zankel Music Center, Skidmore College,
www.skidmore.edu/zankel
, 518-580-5321
June 27
Terell Stafford Quintet
(jazz), 8 pm, Arthur Zankel Music Center, Skidmore College,
www.skidmore.edu/zankel
, 518-580-5321
June 29
Skidmore Jazz All-Stars
, 8 pm, Arthur Zankel Music Center, Skidmore College,
www.skidmore.edu/zankel
, 518-580-5321
JULY
July 3-28
New York State Summer Writers Institute Readings
, Daily weeknight readings by award-winning authors including Paul Auster, Joyce Carol Oates and Lionel Shriver among others, 8 pm, Davis Auditorium, Skidmore College,
www.skidmore.edu/summerwriters/
July 5
Skidmore Jazz All-Stars
, 8 pm, Arthur Zankel Music Center, Skidmore College,
www.skidmore.edu/zankel
, 518-580-5321
July 6
Jon Batiste and Stay Human
(jazz), 8 pm, Arthur Zankel Music Center, Skidmore College, w
ww.skidmore.edu/zankel
, 518-580-5321
July 11
Decoda Chamber Music Ensemble
, 7:30 pm, Arthur Zankel Music Center, Skidmore College,
www.skidmore.edu/zankel
, 518-580-5321
July 13
UpBeat on the Roof: Decoda|Skidmore Chamber Music Institute
(classical), Tang Museum Rooftop, Skidmore College,
https://tang.skidmore.edu/
July 15
Frances Day
, noon to 4 pm, Tang Teaching Museum's annual community day featuring music, dance, tours, art-making activities, and more. Skidmore College,
https://tang.skidmore.edu/


Summer Celebration
, 5:30 to 7 pm, Tang Teaching Museum celebrates its summer exhibitions and artists with a reception open to the public. Skidmore College,
https://tang.skidmore.edu/

July 18
Decoda Chamber Music Ensemble
, 7:30 pm, Arthur Zankel Music Center, Skidmore College, www.skidmore.edu/zankel, 518-580-5321
July 20
UpBeat on the Roof: Alex Torres and His Latin Orchestra
(Latin big-band jazz), Tang Museum Rooftop, Skidmore College,
https://tang.skidmore.edu/


July 22
Selected Shorts
, 7 pm, Featuring stories by authors from the New York State Summer Writers Institute, Selected Shorts presents an evening of funny, moving, romantic and surreal tales filled with unexpected twists and turns. Arthur Zankel Music Center, Skidmore College,
www.skidmore.edu/zankel
, 518-580-5321
July 27
UpBeat on the Roof: Heard
(world music), Tang Museum Rooftop, Skidmore College,
https://tang.skidmore.edu/
AUGUST
August 3
UpBeat on the Roof: Great Mutations
(indie rock), Tang Museum Rooftop, Skidmore College,
https://tang.skidmore.edu/
August 10
UpBeat on the Roof: Cannon the Brave
(dreamy folk), Tang Museum Rooftop, Skidmore College,
https://tang.skidmore.edu/
August 17
UpBeat on the Roof: The Ramblin Jug Stompers
(funky Americana), Tang Museum Rooftop, Skidmore College,
https://tang.skidmore.edu/
August 24
UpBeat on the Roof: Pony in the Pancake
(psychedelic surf rock), Tang Museum Rooftop, Skidmore College,
https://tang.skidmore.edu/
Amy Wallen, Adam Braver, Henri Cole & Rick Moody enjoying a reading
– photo by Jim McLaughlin





Stephen Petronio Company, RainForest (Merce Cunningham)
-photo by Sarah Silver