Spring into Action

Spring is a great time to explore! So come and pack your days with as much fun as possible. Saratoga has everything you need to plan the perfect spring getaway with that special someone in your life or your entire family. We will help you start your planning with some fun ideas and great spring stay packages. And don't forget to check out all the other great things to do in Saratoga throughout the seasons! Take in an intimate theater experience, or step back in time with the Saratoga National Historical Park, or just marvel at the change of seasons this weekend in Saratoga. Highlights of Saratoga Happenings are below.
Celebrating 30 Years
Tuesday through Saturday 10AM-4PM; Sunday 12pm - 4pm
National Museum of Dance


Join us in celebrating The National Museum of Dance & Hall of Fame's 30th anniversary as the only museum in the nation and one of the few in the world that is dedicated entirely to the art of dance. Visit our growing collection of photographs, videos, costumes, documents, biographies and artifacts that honor all forms of dance.
Easter Market
April 15, 2017
9am - 1pm
Lincoln Baths, Saratoga State Park
Prepare for your Easter festivities at the Saratoga Farmers' Market! You'll find an extensive variety of locally grown produce, locally sourced meat, cheese, cakes, bread, farm fresh eggs, wine and spirits, and much more. Enjoy egg-dying, hosted by the Friends of the Saratoga Market, and listen to live music from Bruce Blinn-Knapp!


Night at the Brewseum
April 21, 2017
6:00pm - 9:30pm
Canfield Casino
Don't miss the 6th annual craft beer, wine and food tasting event. This event features beers and ciders from local and regional craft brewers, great wines and a variety of delicious foods from local restaurants. Everything is included in the ticket price. Special price for members of the military and non-drinkers!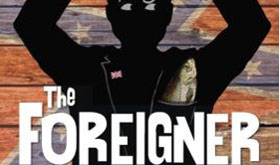 The Foreigner
April 22-May 7, 2017
2pm or 7:30pm
Spa Little Theater, Saratoga State Park
Charlie Baker is a painfully shy Englishman who's terrified of conversation - with anyone! So when he's dropped for a few days of peace and quiet, the locals are told that Charlie can't speak or understand a word of English.This puts Charlie in the interesting position of overhearing more than he should!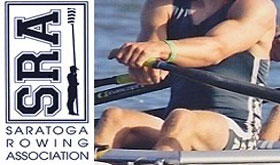 The Saratoga Invitational
April 29-30, 2017

Fish Creek, Saratoga Lake
Join the Saratoga Rowing Association as they host the Annual Saratoga Invitational that draws dozens of teams and hundreds of boats. These are 10 lane races of 1500 meters. It's a competitive and fast event that will even thrill first-time spectators, and vendors will be on hand to supply refreshments.


Maple in April Festival
April 29-30, 2017
8:00am - 4:00pm
Rockwell Street, Hadley
The street is lined with tents of 50+ artisans displaying their handmade works and more. Plus a farmers' market and food vendors offering maple syrup, maple cotton candy, hot dogs, sausage & peppers and more. Enjoy horse drawn wagon rides, train rides, bounce-houses. Car buffs will enjoy the car & truck show at the Smead Memorial Park.


Saratoga Horse Show
May 3-21, 2017
8am - 5pm
Yaddo Show Grounds, Union Ave.


The first USEF Premier (AA) Rating and USEF Jumper 4/3 Rating Outdoor Show in the Northeast, featuring Hunters, Jumpers, and Equitation classes held in three rings is once again, extended an extra week! Come watch top equestrians from all along the east coast, the Midwest, and eastern Canada compete for prizes.
I Love My Park Day
May 6, 2017
All Day
Various New York State Parks


An exciting statewide volunteer service day sponsored by Parks & Trails New York (PTNY) and New York State Parks. Saratoga National Historical Park, Saratoga Spa State Park, Grant Cottage State Historic Site & Moreau Lake State Park will be participating by offering several half-day volunteering opportunities.
Historic Homes Tour
May 13, 2017
10am - 4pm
Downtown Saratoga Springs
The Saratoga Springs Preservation Foundation will host its annual Historic Homes Tour, featuring unique homes in Saratoga Springs. Join the Porch Party on Thursday, May 11th from 5:30 - 7:30 p.m. for cocktails, light hors d'oeuvres, and live music by Rich Ortiz on the grand porches of historic North Broadway.


Waterford Canal Fest
May 20, 2017
10am - 6pm
Waterford Harbor Visitor Center
Join us for this annual event as we welcome new and returning vendors to line the banks of the Erie Canal. Enjoy live music, dance performances, children's activities, kayaking, educational walks and presentations and more. Bring your camera and comfy shoes. Admission is free.
Annual Saratoga Brewfest
May 20, 2017
1pm - 5pm
Saratoga Race Course
Upstate New York's biggest and best craft beer festival! Enjoy unlimited sampling of over 150 beers from the country's best craft breweries. As always there will live music, various vendors and delicious food! Grab a VIP tickets to sample rare brews, meet the brewers and enjoy an extra hour of fun.
Spring Auto Show
May 21, 2017
8am - 3pm
Saratoga Automobile Museum
The celebration of SAMs Annual Spring Autoshow and the Museum's biggest fundraiser of the year features Model T Fords, Model A Fords, Pre-1972 Muscle Cars and Pre-1949 Street Rods. Plus, games & activities for the kids, driving simulators, and photo-ops.
SPAC Rock & Run
May 21, 2017
7:30am
SPAC, Saratoga Spa State Park
A chance to enjoy live music while running through the beautiful grounds of Saratoga Spa State Park. The annual SPAC Rock & Run 5K returns in 2017. The region's fastest-growing 5K race, with local bands performing along the route, is back at Saratoga Spa State Park, with all proceeds going to benefit SPAC's Kids education programs and classical programming.
Bike Summit
May 21, 2017
9am - 5pm
Saratoga National Historic Park
May is National Bike Month, so get your bikes out of winter storage! Join Saratoga NHP and a variety of local bike organizations and shops to prep your gear for the 2017 biking season. Event to unveil new fixit stations, offer bike skills training, bike rodeos, and a 5-mile ranger-guided bike tour!


GottaGetGon Festival
May 26 - 28, 2017
Saratoga County Fairgrounds
Ballston Spa
Bring your dancing shoes, singing voice and a chair for an intimate family folk music experience like no other...even a barn dance Saturday night! Held every year Memorial Day Weekend for over 40 years, entertaining all ages with great music, workshops, concerts and just good ol' fun!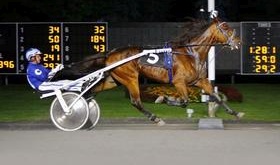 Live Harness Racing
May 1 - 31, 2016
Thursday through Sunday, times vary
Saratoga Casino and Raceway
The Saratoga Casino & Raceway will welcome back live harness racing with its 76th season on their beautiful half-mile track. Come bet on the ponies, then try your luck on the gaming floor with over 1,700 slot machines, grab a bite to eat at one of their dining options. dance the night away at one of the region's hottest night clubs or spend the night at their newly opened hotel.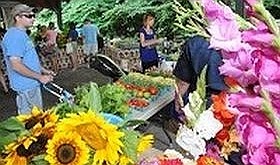 Spring and Summer Farmers' Markets
May through October 2016
Saratoga National Historic Park
May marks the beginning of our outdoor farmers' markets! Saratoga's agricultural excellence is revered by locals and visitors alike. Take in fresh, locally grown produce, hand-made products, and live music. See
www.spacityfarmersmarket.com/
and
www.saratogafarmersmarket.org/
for sites and details.
Mark Your Calendars
Upcoming June Events

Or Simply Come and Explore All that Saratoga Has to Offer

No matter whether you're a theater buff, racing aficionado, olympic shopper, or history buff, there's something in Saratoga for you!



Mineral Springs
It was news of healing waters that first brought visitors to Saratoga. Today you can walk or drive around downtown Saratoga and sample over a dozen natural flowing and carbonated springs.

Explore History
We have historical sites and museums that feature classic automobiles, horse racing, glass bottles, military artifacts and so much more. The Saratoga National Historical Park's tour road is open to cars, bikers and hikers, so you can enjoy and learn in the way that pleases you most.

State and City Parks
Saratoga is located in the Foothills of the Adirondacks, which means outdoor activities are abundant. Saratoga has thousands of acres to explore through nature hikes and mountain biking. Congress Park is nestled right downtown with lawns, statues, museum, ponds, mineral springs and a Circa 1910 restored carousel. Just off Broaday is the expansive Saratoga Spa State Park with acres of land, miles of trails, two golf courses, playgrounds, picnic areas and more. Be sure you don't forget the many nature preserves around Saratoga County.

Arts
Saratoga has many cultural treasures with Saratoga Arts at the Arts Center located right downtown, as well as an eclectic and revitalized neighborhood designated as the Beekman Street Art District. Visitors will also find numerous exhibits, galleries, "how to" workshops, museum, art shows and art events, including First Saturdays. We're also home to Skidmore College, with its teaching museum, state-of-the-art music center and theater department.
Casino
Enjoy live harness racing at Saratoga Casino & Raceway, along with over 1,700 state-of-the-art video gaming machines and simulcast broadcasting. There are also several dining options on site, as well as the Capital Region's hottest night club - Vapor. Catch the racing action Friday through Sunday, as well as most Wednesdays and try your luck on the gaming floor seven days a week.

Music
There is live music throughout downtown Saratoga Springs, in the bars, jazz clubs and wine bars. There are also a number of dance events and concerts. Skidmore College's Arthur Zankel Music Center is new place to watch a musical performance, including jazz, guitar ensemble, recitals and more.

Ride the Rapids
Great whitewater rafting may be one of Saratoga's best kept secrets. Visitors can experience Class II and III rapids with some of the best guides around. With controlled water release on the Great Sacandaga River, there are waves to ride all day and just not at peak times. Opening is weather dependent but is usually in full-swing by Memorial Day Weekend.

Check Out A Car Show
The Saratoga Automobile Museum preserves, interprets, and exhibits automobiles and automotive artifacts. The museum features regular exhibits, as well as special events and lawn show series. Their popular Spring Invitatinal is a must attend event.

Horsin' Around
Spring brings the start of horse shows in Saratoga. Top riders from all around will showcase their Hunter and Jumper skills at the annual Saratoga Springs Horse Show. And there will be nothing but elegance and grace at the Annual Dressage at Saratoga at the end of May.
Click here for our complete events calendar.