Winter Fun in Saratoga!
Looking for Winter Activities?


See What Saratoga's Winter Wonderland has in Store for You!
Saratoga has everything you need to plan the perfect winter getaway with that special someone in your life or your entire family. We will help you start your planning with some fun ideas and great winter stay packages. And don't forget to check out all the other great things to do in Saratoga throughout the seasons! Take in an intimate theater experience, or step back in time with the Saratoga National Historical Park, or just marvel at the change of seasons this weekend in Saratoga. Highlights of Saratoga Happenings are below.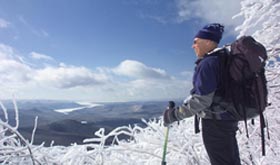 WINTER WONDERLAND
All Winter Long
Throughout the Region



Saratoga is a winter wonderland with countless outdoor recreation opportunities. Enjoy cross-country skiing, snowshoeing, snowmobiling, sledding, hiking, ice fishing and so much more. Beat the wintertime cabin fever with a fun-filled winter getaway to Saratoga.
MOREAU LAKE EAGLE WATCH
January 6, 7, 14 & 21, 2017
9:30AM- 12:30PM
Moreau Lake State Park


Grab a pair of binoculars and join park staff on their weekly Bald Eagle survey. Moreau Lake State Park's section of the Hudson is home to wintering bald eagles. Please come and help us monitor their population and health! Registration is necessary, please call 793-0511.
XC Ski & Snowshoe Rentals
Weekends beginning in January
10am - 3pm
Wilton Wildlife Preserve


Snowshoes and cross country skis are available to rent for use at Wilton Wildlife Preserve's 3.5 miles of trails. The rental fee for non-members is $5. Members can use snowshoes at no charge. Discounts for children's programs and environmental education.
Hattie's 16th Annual Mardi Gras
January 14, 2017
6 pm
Canfield Casino, Congress Park


This celebration was created to carry out Miss Hattie's legacy of charitable giving. Caffe Lena was chosen to be receive the proceeds of Hattie's Mardi Gras Soiree 2017. Live entertainment, food and drinks all set to a New Orleans backdrop.
NYSSCA Hall of Fame Induction
January 28, 2017
11 am - 12 noon
Saratoga Auto Museum


Dirt stars Paul Jensen and Gary Balough, asphalt ace Billy Greco, racer and historian Dan Ody andmedia stalwarts Don and Joanne Davies highlight an all-star class of inductees for the New York State Stock Car Association Hall of Fame ceremony.
Annual Frost Faire
January 28, 2017
11 am - 3 pm
Saratoga National Historical Park


Come to the 22nd annual Frost Faire at the Battlefield. Bring your tubes and sleds and enjoy the new sledding area! Enjoy horse-drawn wagon rides, a noontime nature walk and scavenger hunt, and other outdoor and winter activities.


Mark Your Calendars
Here are some highlights for February 2017


Skiing and Snowboarding


Check out these ski mountains near Saratoga!
Gore Mountain
West Mountain
Whiteface Mountain
Willard Mountain
Snowshoeing and Cross Country Skiing


Where to snowshoe or xc ski near Saratoga.
Coles Woods Ski Trails
Garnet Hill Lodge
Lapland Lake
Saratoga Spa State Park
Ice Skating


We've got skating indoors and out
Gavin Park in Wilton »
Saratoga Lake »
Saratoga Spa State Park »
Saratoga Springs Ice Rink »
Snowmobiling


Here's where to make tracks:
Adirondack trails »
Corinth area trails »
Saratoga County trail map »
Saratoga snowmobile clubs »
Sledding


Find a good sledding hill
Clifton Commons Park »
Saratoga Battlefield »
Saratoga Spa State Park »
Saratoga County and Beyond »