Leap of Kindness Day February 29, 2020
What will you do with an extra day?
What will you do with the extra day we all get this Leap Year, on Saturday, February 29, 2020?
Our idea - - take part in Leap of Kindness Day and do something kind for someone else.
To help you participate, we reached out to local nonprofits in Saratoga County and asked them for some ideas. While you can wait to deliver any items you might donate, we encourage everyone to start collection activities within your workplace or organization as soon as possible to maximize your participation and community impact.
We are also inviting our members and other local organizations to share with us their own creative ideas for participating in Leap of Kindness Day this year.
Contact us if we can help at frontdesk@saratoga.org or at 518-584-3255
Here's what our local nonprofits are requesting:
Habitat for Humanity - We are teaming up with Curtis Lumber asking for the community to purchase a 2x4x8 at all Curtis Lumber locations in the Capital Region. Each 2 x 4 can be purchased for just $3 at any register. You'll also get the opportunity to write a message about home ownership and/or affordable housing on a piece of lumber at each store. Curtis Lumber will then deliver all donated 2 x 4's to Habitat on Leap of Kindness Day. Contact executivedirector@glensfallshabitat.org for details or call (518) 793-7484.
Mechanicville Area Community Center - We could use any items, but, what we are and will continue to be short on is cleaning products (i.e. laundry items, sponges, cleaning sprays, dish soap, etc etc) and/or personal care items (toothpaste, mouth wash, hand soap, full size shampoo / conditioner, deodorant) or pet supplies (dog and cat food, kitty litter, treats…). Contact Megan at mquillinan@mechanicvilleacsc.org for details or call 518- 664-8322.
Franklin Community Center - A major need we have this time of year is individually packaged snack items to provide snacks to our 150+ Project Lift participants as well as hygiene items (shampoo, conditioner, shaving cream, soap, toothpaste, toilet paper, paper towels, tooth brushes...etc.).  These items are even more helpful than food items because they are things that SNAP benefits do not cover. Contact Kari Kushing at kari@franklincommunitycenter.org or call 518.587.9826.
CAPTAIN Community Human Services - We have 4 offices that could use painting here at the Glenville Office.  I can definitely arrange for me to be here on February 29th if someone wanted to help.  Donated paint would be fantastic; of course but I am sure we can buy the paint as well. Contact Ava Martin ava@captaincares.org if you can help or call 518-399-4624.
Shelters of Saratoga - Canned goods drive for our outreach program. Contact Rosemary at rriedhammer@sheltersofsaratoga.org or call 518-581-1097.
The Wesley Community - Flowers, stuffed animals, etc. for residents. Contact Greg Dixon at GDixon@thewesleycommunity.org or call 518-691-1419.
The Salvation Army - Collect sock and underwear donations for all ages. Contact Bree Barker at Bree.Barker@USE.SalvationArmy.Org or call 518-584-1640.
Backstretch Employee Service Team - Donation of Jeans for backstretch workers at the Saratoga Race Course. Contact Nancy Underwood at nancy@backstretch.org or call 518-587-3720.
The Saratoga County Economic Opportunity Council (EOC) is seeking donations of personal care items, including; toothbrushes and toothpaste; shampoo and conditioner; soap; shaving cream and razors; individually wrapped toilet paper; baby wipes; and feminine hygiene products. Contact Gwen Matson  g.matson@saratogaeoc.org or call 518-288-3206.
Kelly's Angels which provides scholarships to seniors at seven different school districts. This process is now 100% manual. They'd love to have a programmer build a portal on https://www.kellysangelsinc.org/ which would then allow scholarship candidates to enter all of their information online to automate this process. This would include; extracurriculars, service to others, need, and examples of how they have persevered in the face of significant adversity. Contact Mark Mulholland at MMulholland@wnyt.com or call 518-265-0962.
The Clifton Park Halfmoon EMS is looking to raise $500 to buy things like clothes, food, walkers, canes, hearing aid batteries, light bulbs, and smoke alarm batteries to address emergency needs and critical safety needs for home-bound patients. Click here to make a donation or contact Sue Syzdek at info@cphmems.org or call 518-371-3880.
The Veterans and Community Housing Coalition in Ballston Spa provides housing and services to Homeless Veterans and their families.  We are a Not for Profit and are of need of donations monetary, gift cards, new bedding, clothes, toiletries, and non-perishable items. Please contact Michelle Viola Straight at 885-233-1117 or at MStraight@vchcny.org.
Rebuilding Together Saratoga at 132 Milton Avenue Ballston Spa are asking people to donate smoke detectors (with 10 year sealed lithium batteries), carbon monoxide detectors, and/or kitchen fire extinguishers so we can install these items for our neighbors in need.  We'd also like to encourage people to buy these items from our local partners - Allerdice Hardware and Curtis Lumber - and they can drop them off at The Store between 10 am and 5 pm Tuesday February 25th-Friday February 28th.  Please contact Michaela Brown at 518-587-3315 or at michaela@RTSaratoga.org
Saratoga Senior Center could use non-perishable food items, toiletries, and paper products.  Please contact Colleen Kelley at 518-584-1621 ext. 203 or at seniorcenterprogram@gmail.com
Vanderheyden is in need of kitchen items such as:  cookware, plastic cups, non-breakable dinnerware, baking pans, cookie sheets, food storage containers, kitchen utensils, etc.  We CANNOT accept knives or glass items.  Please contact Cathy Yudzevich at 518-874-4901 or at cyudzevich@vanderheyden.org
Wilton Wildlife Preserve & Park is looking for donations of gently-used children's raincoats that can be available for children who forget to bring their own when they come for a field trip on a rainy day. Please contact Erin McCabe at emccabe@wiltonpreserve.org to arrange for drop-off.
New York Racetrack Chaplaincy serves the backstretch workers of the Saratoga Race Course and are asking for new hoodies of any size or color to be donated for these workers.  Hoodies may be dropped off at Pine Grove Community Church, 59 Pine Road Saratoga Springs, NY 12866 or by contacting Eleanor Poppe at info@rtcany.org
Wellspring is looking for donations of laundry detergent, fabric softener, household cleaning supplies (dish soap, counter spray, floor cleaner), full and queen sheets, comforters and blankets of any bed size,  feminine hygiene products, most specifically tampons, diapers in any size but size 1, toilet paper and paper towels. Not a shopper? That's OK. Gift cards to purchase these items are also appreciated.  Donations can be dropped off at the Wellspring offices at 480 Broadway Lower Level 20 Saratoga Springs, NY 12866.  Please call 518-583-0280 for any further information regarding drop-offs.
AIM Services are requesting anyone to send a letter or card thanking a DSP (Direct Support Professional). DSPs work directly with people with disabilities, supporting them to achieve their personal goals, while promoting a sense of self-confidence and independence.  Thank you cards may be sent or dropped off to AIM Services Inc. at 4227 Route 50 Saratoga Springs, NY 12866
Schuylerville Elementary School is in need of building their classroom libraries.  To show your support they would appreciate gift cards to Northshire Bookstore or Barnes and Noble which will help them purchase classroom sets of books. Donations can be dropped off at the school at 14 Spring Street Schuylerville, NY 12871
The Epilepsy Foundation of Northeastern New York will be accepting donations at www.epilepsy.com/northeastern-new-york to help fund their programs and services they provide to individuals affected by epilepsy.  These include counseling, support groups, information and referral, education and first-aid training in schools and to first responders as well as in the business community.   In addition, Sonic will be hosting a "Friends and Family Event" on Saturday, February 29th, Leap of Kindness Day, at their newest location at 351 Southern Boulevard, Albany.  The event will be held from 10am-2pm, and 4pm-8pm.  During this time, if the customer mentions the Epilepsy Foundation, all menu items will be half price, and all of the proceeds will be donated to the Epilepsy Foundation of Northeastern New York.
The Capital District YMCA is a leading non-profit organization in the capital region.  As a nonprofit organization we never turn away anyone who needs us. This year Southern Saratoga YMCA Branch in Clifton Park NY will be participating in Leap of Kindness Day! At the YMCA we show our kindness everyday by raising money for programs that we participate in to give back to each of our communities pockets of need. A few examples of how we show our kindness are programs like these:
LIVESTRONG® at the YMCA: helping cancer survivors in their journey.
Circle of Champs: improving the quality of life for children who've been touched by a life-threatening illness. All program activities are free for families because we appreciate that treating an illness can cause financial challenges for your family and we want to help.
Running Start: Every school year, we fill a backpack and give the gift of taking a child school shopping. Sometimes these children are receiving new school clothes for the very first time. We are not only providing these items but giving them something even more valuable, confidence.
On #LeapOfKindnessDay you can follow us on Social Media to see how we are giving back or if you would like to donate to our Annual Campaign to give back to your community you can follow this link: www.cdymca.org/support-the-y
Saratoga Automobile Museum is requesting donations to help fund their exhibit and educational programming, such as the Distracted Driving Safety Initiative. The Museum takes their distracted driving simulators out to schools and events to educate local youth about the dangers of driving distracted. The Museum is also accepting donations to fund youth vehicle restoration programs to teach local youth about cars, automotive repair, preservation, and restoration. The Museum is also accepting vehicle donations, for which the donor will receive a tax deduction. For Leap of Kindness Day, visitors to the Museum will be able to take 50% off the purchase of a Museum membership, on Saturday, February 29, 2020 from 10 a.m. to 5 p.m. Please contact Dustin Lanterman at dustin@saratogaautomuseum.org or call 518-401-5186.
The Sembrich, on the shores of Lake George in Bolton Landing, is a unique cultural experience that offers a museum and presents an annual Summer Festival, including music and film. We are seeking donations of office furniture (shelf units, filing cabinets, floor/desk lamps, fans, bookcases) and other office/home supplies (manila folders, letter-sized hanging folders, white/ivory sheets, pillowcases). Please contact our office at (518) 644-2431 or email Office@TheSembrich.org.
For any questions please contact frontdesk@saratoga.org or call the Saratoga County Chamber at 518-584-3255 to let us know how people can help your nonprofit organization as part of Leap of Kindness Day 2020.
We will be adding more nonprofit requests as we receive them.
Here's what our members are doing to help:
Below is a list of "acts of kindness" our member organizations are planning to do to join our Leap of Kindness Day celebration.
Please share what you are doing with us on Facebook or send us an email at frontdesk@saratoga.org. We will make every effort we can to thank and publicly acknowledge all of the acts of kindness taking place in Saratoga County and beyond.
The Rotary Club of Saratoga Springs invites you to participate through the Rotary Home & Lifestyle Show by making donations of items at the show.
Saturday, February 29: On behalf of the Salvation Army, we will collect new socks and underwear for all ages and sizes. Bring your donations to the show and place them in the receptacle near our entry table.
Sunday, March 1: Donate an item to the local animal rescue centers operating our pet adoption area. Suggested donations include unused dog and cat beds, food, treats, toys and other pet paraphernalia.
First New York Federal Credit Union is collecting donations for Blue Star Mothers of America at all of their credit union branches.  More specifically they are looking for Granola Bars, Beef Jerky/Slim Jim's, Mac N Cheese Cups, ChapStick Lip Balm, and Bar Soap.  There is a local chapter that is located in the Capital District. The members are mothers who now have, or have had, children honorably serving in the military. Our associate members are a wonderful group of dads, relatives, friends, and other supporters of our troops. We always warmly welcome new members. Their mission is to provide emotional support to our members in times of uncertainty, to support our military sons and daughters, our troops, our veterans, and our Gold Star families.
The Chamber's Veterans Business Council is collecting donatons for STRIDE which is a veteran organization assisting disabled veterans. STRIDE will be helping severely wounded veterans in learning to ski and snowboard. Click here to donate.
The Clifton Park Halfmoon Public Library is working with CAPTAIN to collect funds to support their outreach programs including their Street Outreach Project and Youth Shelter.  Patrons can donate funds, and they will receive a "frog" where they can write their name and it will be hung up on our window creating a visual frog pond.  This will take place for the month of February, starting February 3 through February 29.  All funds collected will go to CAPTAIN.
The Saratoga County Chamber's Board of Directors will be bringing fruit and vegetable platters to the overnight staffs at the Ellis Medicine Urgent Care Center, in Clifton Park, and the Albany Med/Saratoga Hospital Urgent Care Center, in Malta.
The Hampton Inn & Suites, in Saratoga Springs, is inviting the first responders from the Lake Avenue Fire Station and the City's downtown Police Station to join them for a free breakfast at the hotel.
Marshall & Sterling Insurance (Saratoga Branch) will be putting together personal & hygienic care packages to donate to the Saratoga County Economic Opportunity Council.
E3 Training Studio powered by VENT will be taking donations for the month of February for the Saratoga County Animal Shelter. The shelter is asking for 6 foot leashes (clip on or slip); towels & washcloths; sturdy toys (but no Kongs as they already have a lot)!
ADKtechs is collecting donations (everything from pet toys and crates to newspapers and bleach) for the SPCA of Upstate New York from now until Leap of Kindness Day.
Skidmore College will be donating food to local shelters to celebrate Leap of Kindness Day.
Sweet Mimi's Cafe & Bakery plan to deliver two large platters of their homemade scones and muffins to the Wesley Community Center the morning of our extra day, February the 29th.
Roohan Realty will be doing two different drives throughout the month of February, leading up to Leap of Kindness Day. The first one will be personal hygiene items for the Franklin Community Center and the second one will be canned goods for Shelters of Saratoga.
Adirondack Trust Company will be partnering with Wellspring and the Veteran's & Community Housing Coalition to collect personal care items that will be delivered to these locations on Friday February 28th.
The Saratoga National Bank will be collecting personal care items for the Saratoga Economic Opportunity Council and Mechanicville Community Center.
Roundabout Runners Club will be donating previous years race shirts to the Veterans & Community Housing Coalition.
Family Vision Care Center will be collecting shampoo and socks for men and women along with snacks (individually wrapped, NO nuts or hard candies) that will be donated to The Wesley Community Center on Saturday February 29th.
Clifton Park & Halfmoon Emergency Corps will be providing a free community CPR class on February 29th.  From 9 a.m. until 11 a.m. at their main station at 15 Crossing Blvd. in Clifton Park you can make the ultimate act of kindness by learning how to save someone's life!  The class is open to anyone over the age of 14; minors must be accompanied by an adult. Register at https://www.cphmems.org/eventregistration/1307
The Holiday Inn in Saratoga Springs will be delivering "Thinking of you" cards that they will pass out to some of the residents at The Wesley Community.  In addition, employees of The Holiday Inn will be bringing cupcakes to share with the dedicated Wesley staff who spend valuable time and compassion caring for the residents.
Saratoga Bridges will be making homemade cookies and will be delivering them to some local medical facilities and first responders.
Colorize will be working with CAPTAIN Community Human Services by donating paint as well as helping with painting.
GlobalFoundries employees will be volunteering in the community by donating time or items to a cause; assisting others and spending time helping family; organizing an activity with their colleagues, such as a food or clothing drive.
Impressions of Saratoga will hold a fundraising campaign between February 22nd and February 29th.  There is power in each purchase! For every sale over $10 the Impressions Pups will donate $1 and the customers get to choose the cause! Your sale makes a difference at Impressions of Saratoga.
Impressions of Saratoga will reward each shopper who spends over $10 with a paper $1 bill and any shopper who spends over $50 will receive a paper $2 bill. This bill can be deposited in one of 4 collection jars that will benefit the following charities, each sponsored by one of our Pups! On Saturday the 29th the bills will be tallied and a donation of $1 or $2 per bill will be given to the charity chosen.  The beneficiaries of this great campaign are as follows: OLD FRIENDS AT CABIN CREEK, SARATOGA SPRINGS SENIOR CENTER, WELLSPRING, ROTTIE EMPIRE RESCUE
NBT Bank (Saratoga branch) will be collecting hygiene and personal care items throughout the month of February for the Franklin Community Center, The Saratoga County Economic Opportunity Council, and Wellspring.  They will encourage customers and employees to bring in donations throughout the month to give to these local organizations in our community.
Bonacio Construction will be collecting for Rebuilding Together Saratoga's need of smoke detectors, carbon monoxide detectors, and fire extinguishers.
Saint Marys School in Waterford, NY will be participating in conjunction with Sleep in Heavenly Peace to collect twin size sheets, twin size Bed in Bags and blankets for the beds that are created for those in need.  Donations can be dropped off at the main entrance of the school at 12 Sixth Street Waterford, NY 12188 or arrangements can be made for pick up/drop offs with James Welch at James.welch@shpbeds.org or Beth Heffern at beth.heffern@shpbeds.org
Prime at Saratoga National Golf Club & Saratoga National Golf Club will be donating complimentary food to the Saratoga Senior Center for their Leap of Kindness Day event on Saturday, February 29th  as well as collecting hygiene items & snack items for Project Lift by their Prime Restaurant, Banquet and Management Employees for Franklin Community Center. They will drop off to center at the end of February.
Hedley and Co. will be gathering personal care items for 3 local non-profits to help those in need.  You can help their efforts by bringing an item from the following list to their office at 1593 Route 9, in Clifton Park.  Insect repellent (wipes or non-aerosol), anti-itch cream, chap-stick, tissue, hand sanitizer, shampoo and conditioner, deodorant, toothbrushes, toothpaste, floss, hand and feet warmers, Q-tips, body wash, razors, shaving cream, baby wipes, diapers, cleaning supplies, toilet paper, soap, laundry items, sponges, dish soap, dog and cat food, black socks for male and female troops.
Herzog Law Firm will be collecting non -perishable food items and toiletries which will be distributed to Shelters of Saratoga and the Saratoga Senior Center.
Suny Adirondack will be asking students to bring in food drive items.  The donations will be split between the Franklin Community Center and Moreau Community Center.
Specialty Silicone Products for the remaining month of February will be having two Bake Sales, two Soup/Chili Sales and  one Pizza Sale to raise money for the Saratoga County Veterans Housing Coalition.
Saratoga Learning Center will be collecting donations for the Shelters of Saratoga in the form of ready made meals, can food products or paper products such as plates, napkins and coffee cups.
Polyset has set up a table in their office to collect donations for the Mechanicville Community Center.
Walt & Whitman brewing will be donating $1 for every beer sold on Saturday, February 29th to the Shelters of Saratoga. Come on in, join the fun, and support a great cause! Cheers!
The Thoroughbred Retirement Foundation will have two different opportunities to participate in Leap of Kindness Day.  One is a canned food drive for Shelters of Saratoga and the second a hoodie drive for New York Racetrack Chaplaincy.
How to help: They invite all of their friends of The Thoroughbred Retirement Foundation to drop off canned food items and/or new hoodies at their office (Monday-Friday 9am to 5pm through February 28th) at 10 Lake Ave, 2nd Floor Saratoga Springs, NY 12866 or by joining them and bringing them to their Friends of the Thoroughbred Retirement Foundation Herd Happy Hour & Impact Night on February 27th at Whitman Brewing. Details at: https://www.trfinc.org/event/happy-hour-feb-27/
The Town of Greenfield invites you to join them on Saturday February 29th at the Greenfield Town Hall from 11am until Noon for free hot dogs, a Town of Greenfield reusable cloth bag and a chance to win 2 tickets to a New York Yankees vs Boston Red Sox game!
Quick Response will spend a full-day cleaning out a garage on the property of the Saratoga Center for the Family. The garage became a storage area after the fire at the Center year's ago and needs to be upgraded so it can be used again.
The Real McCoy at Ballston Spa will be partnering with the Brookside Museum, on Saturday! 100% of all bar snack sale proceeds will go to the museum. We will also have a display and donation jar set up to support them.
Saratoga Beef Jerky Outlet is offering 20% off any beef jerky purchased for donation to the Blue Star Mothers of America, in collaboration for First New York Federal Credit Union. If you buy 4 bags of beef jerky, they will also donate 1 of the same.
Northshire Bookstore in Saratoga Springs will be having a fund raising event on Saturday February 29th and March 1st to benefit the Saratoga Independent School as well as Wellspring.  On this day, when you mention Saratoga Independent School at the checkout, 20% of your total sale will be donated back to the school.  There will also be collection bins near the registers for anyone wanting to donate a book or set of books to Wellspring for children in need.
Saratoga Honda is excited to participate in Leap of Kindness Day to help support Habitat for Humanity.  On Friday February 28th and Saturday February 29th Saratoga Honda will donate $25.00 for every vehicle sold, $1.00 for every plate frame they change, $1.00 for every oil change and $5.00 for every alignment purchased. Looking for a New or Pre Owned vehicle? Need vehicle service? Or just need a free plate frame? Come in on 2/28 and 2/29 and help us spread the word http://www.glensfallshabitat.org/
Interactive Media Consulting, LLC, is collecting individually wrapped snacks for Project Lift. They will be delivering the collected items to the Franklin Community Center on Friday February 28th.
Staples in Saratoga Springs has been asking their customers and sales team to donate healthcare products such as hand sanitizer, disinfected wipes and kleenex. They will be donating to The Franklin Community Center.
Racing City Brewing Company will donate 10% of beer sales on Saturday, February 29th to North Country Horses in Gansevoort in association with the New Vocations Racehorse Adoption Program.
Prolific Marketing will be making a donation of towels to the Saratoga County Animal Shelter on Friday, February 28th.
Druthers Brewery on Saturday, February 29th will donate $1 for every beer sold and proceeds will go to Ndakina in Greenfield.
Saratoga Eagle will be serving breakfast for school bus drivers on Friday, February 28th
National Grid has been collecting non-perishable food items which will be delivered to Shelters of Saratoga on Friday, February 28th.
Common Roots Brewery Company is happy to donate $1 from all draft beer poured to the Glens Falls Hospital Foundation on Saturday, February 29th from Noon until 5pm
CAP COM Federal Credit Union plans to visit The Wesley Community on Friday, February 28th with some of their employees to join in on activities with the residents of the Wesley.
Caffè Lena will be raising money for the Southern Adirondack Musicians (SAM) Fund, an organization that helps musicians in the Southern Adirondack region who may fall on hard times due to health, accidents, death and other "acts of god".  We will have our lobby troubadours (musicians performing in the lower lobby of the atrium just inside the Caffè Lena entrance prior to performances) put out a donation basket. The troubadours will be Orion Kribs and Keanan Stark, representatives from SAM. They will be playing before both the afternoon and evening shows on Saturday, February 29th. The general public is invited to come into the atrium to listen from 2:00PM - 2:30 PM and again from 7:30PM - 8:00 PM.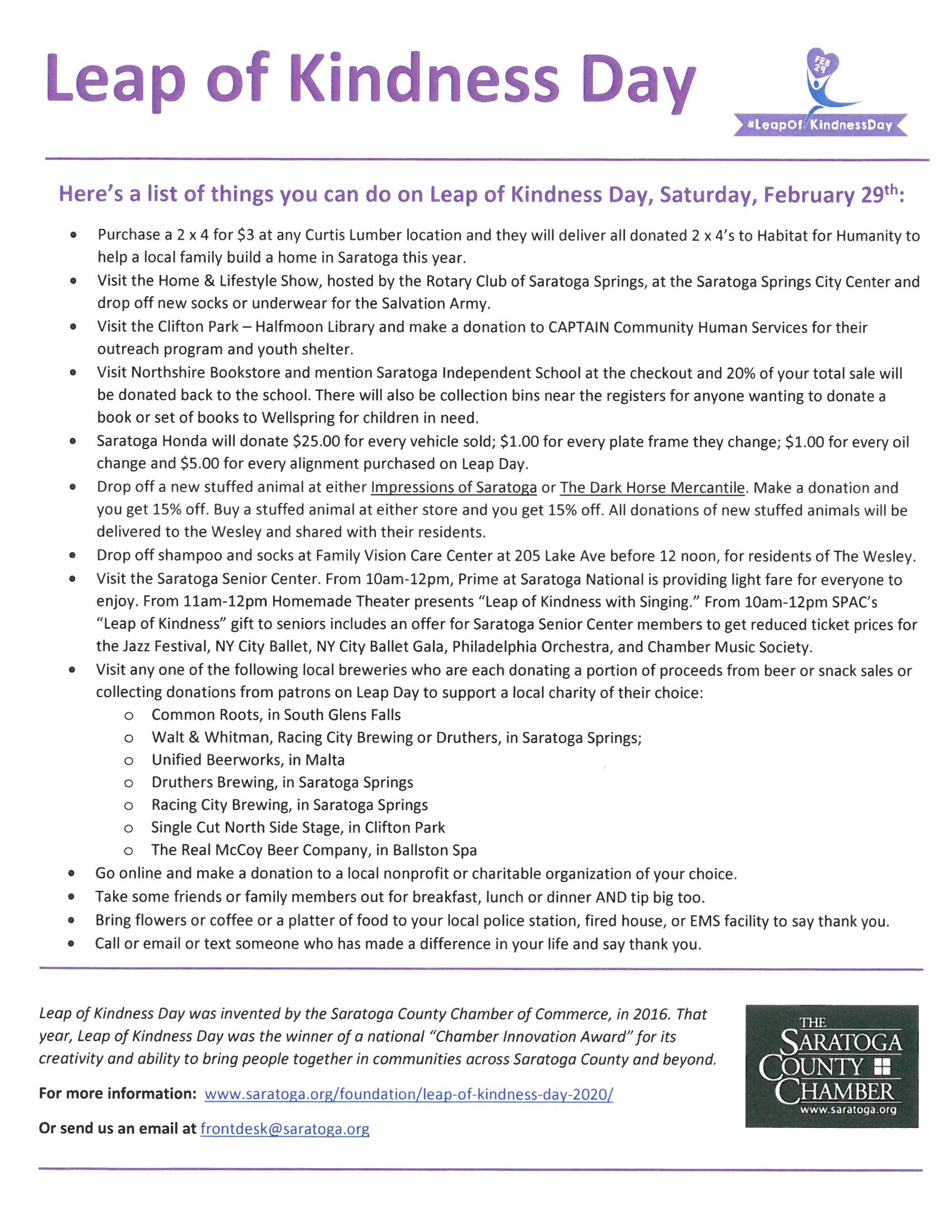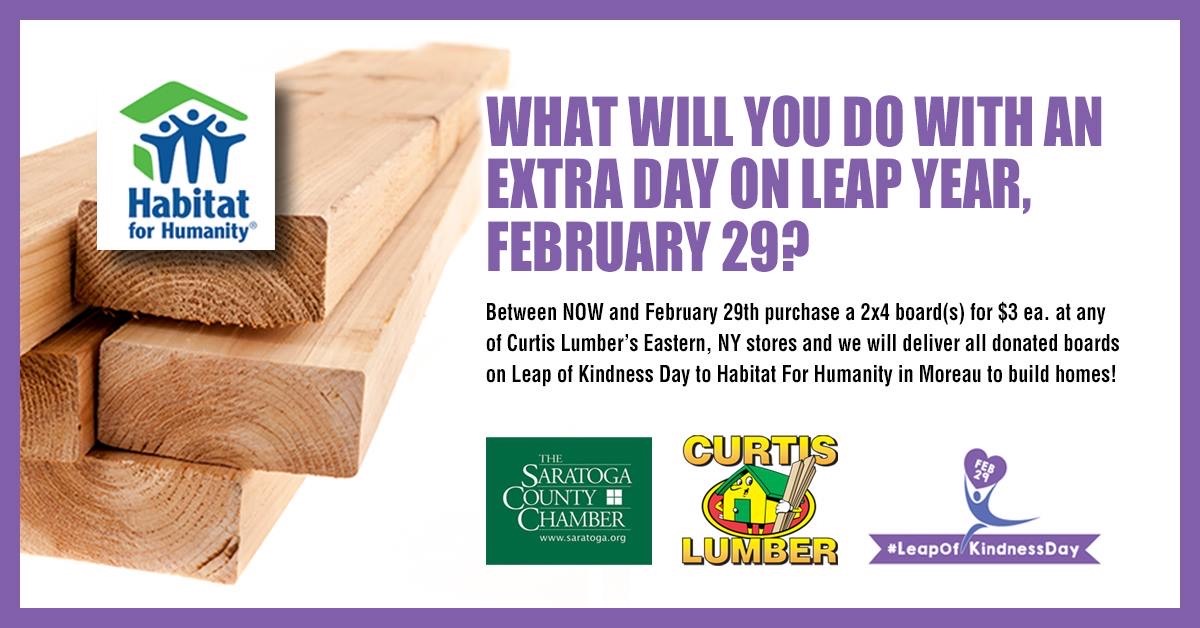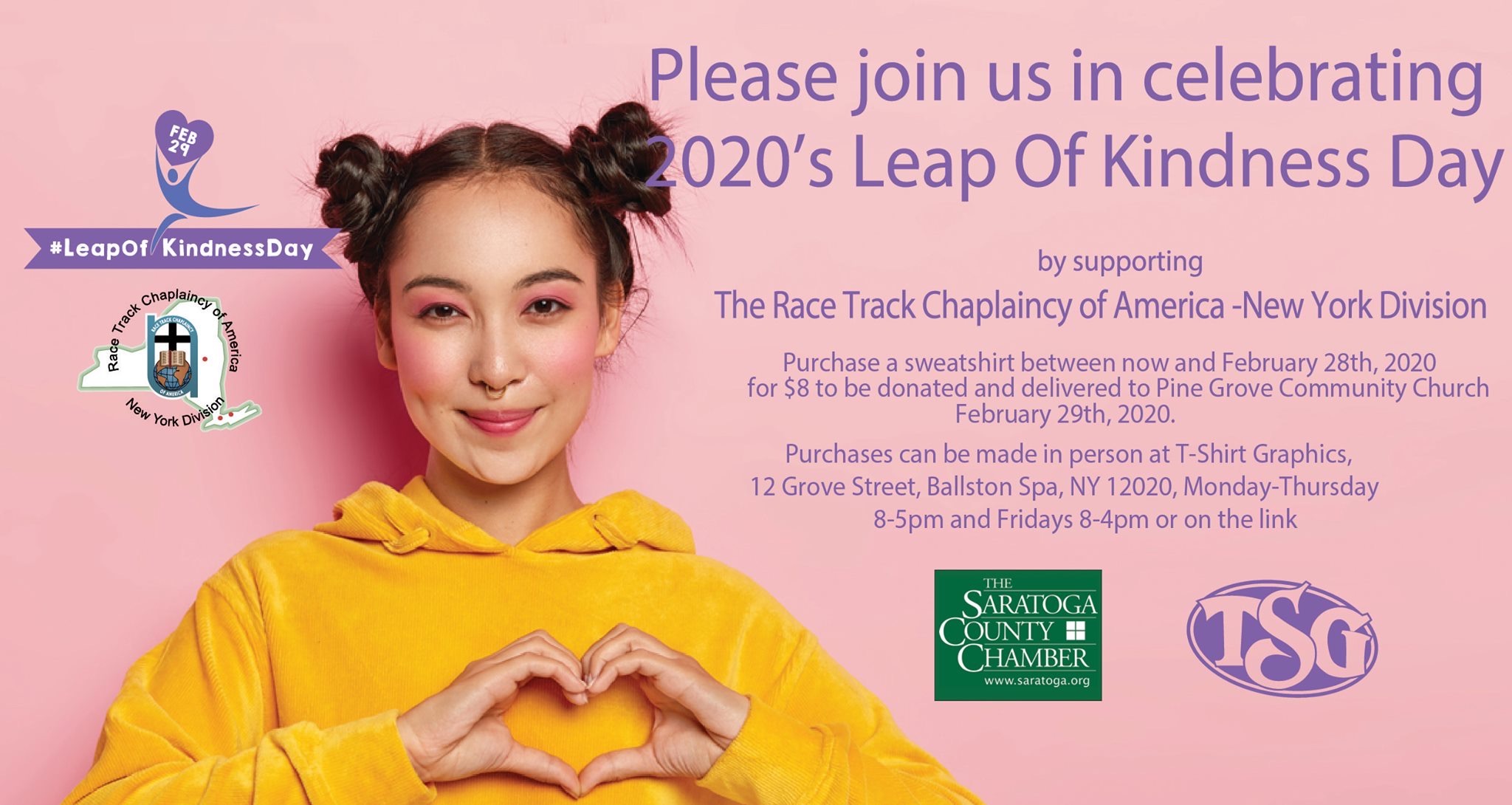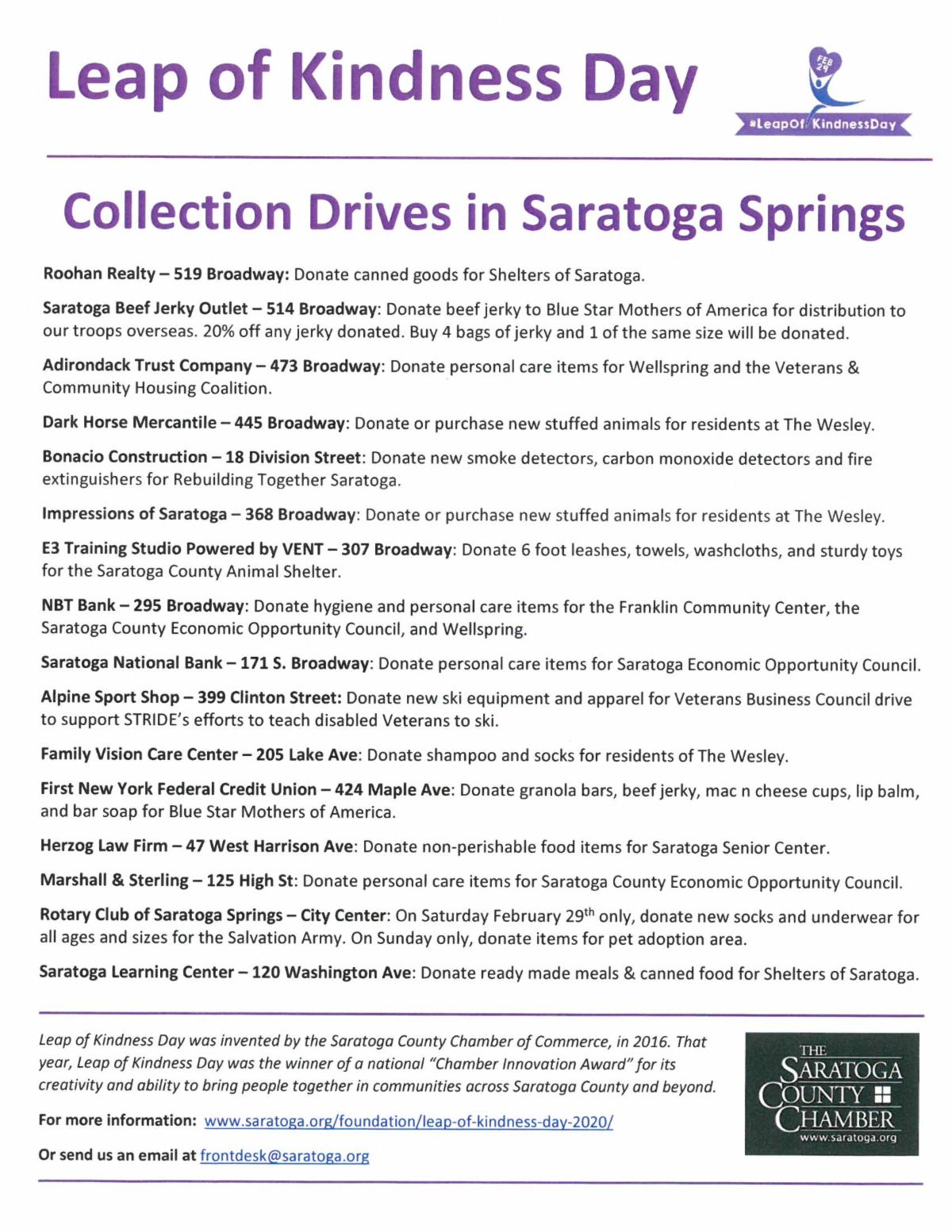 The Saratoga County Chamber's second #LeapOfKindnessDay, will take place, on Saturday, February 29, 2020.
Leap of Kindness Day now happens every 4 years. The idea is to get as many people in our community as possible to use the extra day we all get in a Leap Year to do something kind for someone else.
Our first Leap of Kindness Day was in 2016.
Locally across Saratoga County, we had hundreds of people take part in this celebration of kindness. Some cooked breakfast or delivered lunch for first responders. Others delivered flowers or socks to residents in local retirement homes. Local employers collected clothes, food and money for a wide range of local charities. Others acted individually sending a thank you card to someone who meant a lot to them.
Beyond Saratoga County, there were more than 50 chambers in 30 states who joined the Leap of Kindness Day celebration.
And now as we inch closer to Leap of Kindness Day 2020, our goal is to see that even more individuals and employers come together to do something kind for someone else using the extra day they will get on February 29, 2020.
If you'd like to help us grow this program in 2020, please use the button below to make a donation to the Saratoga County Chamber Foundation so that we can advance this cause.
Local chambers of commerce across the US are often the facilitators of events, celebrations and movements that bring together leaders and individuals from the private, nonprofit and public sectors to get things done.
That's really what Leap of Kindness is all about. Inspiring everyone in your community to do something kind for someone else on the extra day we all get on February 29th during a Leap Year.
In 2016, there were 52 chambers of commerce that took part in Leap of Kindness Day.
In 2020, we're doubling down on Leap of Kindness Day. This summer, we shared our invitation with hundreds of chamber leaders at ACCE's National Convention. We've already had over 100 agree to host and facilitate their own celebration of Leap of Kindness Day, in 2020.
Click the image to the right to see those chambers of commerce who have indicated they want to participate in Leap of Kindness Day 2020, on February 29th!
This web page is full of ideas and suggestions for local chambers. But if your chamber has any question, please call 518-584-3255 or email us at frontdesk@saratoga.org.
Start by using the official Leap of Kindness Day logo
The #LeapOfKindnessDay logo is open source and was designed to be shared with organizations everywhere. Everyone is invited to use this logo in order to promote participation in your own Leap of Kindness Day activities. Feel free to copy it from this page or to contact Richard Snyder at rsnyder@saratoga.org at the Saratoga County Chamber to obtain a copy for use online, in print, etc.
Distribute Leap of Kindness Day Cards to inspire participation!
One of the simplest and perhaps most meaningful ways for individuals to take part in #LeapOfKindnessDay is to invite them to send a thank you note or card to someone that means a lot to them.
As we did in 2016, we again printed and distributed Leap of Kindness Day cards to the nearly 1,000 attendees at our Chamber's Annual Dinner as a means of inspiring them to participate.
The cards have the Leap of Kindness Day logo on the front. They are blank inside. On the back, we included our Chamber's logo, the hashtag #LeapOfKindnessDay and the words: "Created and shared with you by the Board of Directors and staff of the Saratoga County Chamber of Commerce.
Please take this idea and run with it!
Download your Leap of Kindness Day card here.
Leap of Kindness Day motivates people to donate food, clothing, money, etc. to area nonprofits
#LeapOfKindnessDay offers you a chance to motivate your organization, business, or community to donate to local impact sector organizations. Late-winter donations of clothing, food and money often decline after the Holiday Season. Here's a chance to reverse this trend!
Leap of Kindness Day can be used to solicit donations by impact sector organizations themselves. Share with your community the idea that if they'd like to do something kind for someone else on the extra day we all have in Leap Year that your organization would welcome donations of whatever specific items you need.
Leap of Kindness Day can help build team work & workplace morale
Employers can use #LeapOfKindnessDay to build employee morale with a focus on kindness and community.
Organize a food drive, a clothing drive, or team up to volunteer and help a local charitable organization.
Reaching out early and selecting an organization to help might result in new ideas. For instance, a local organization in Ballston Spa, New York, organized a "sock drive" because that was the number one request of residents in a local nursing home.
Start on February 1, 2020, and make it a contest to see which local business can collect the most food, the most clothes, or the most money by February 29th. You can then schedule to bring your donations to the impact sector organization of your choice on February 29th.
Nonprofits can thank their local supporters on Leap of Kindness Day
While many private sector organizations will mobilize to collect donations for local nonprofits and charitable agenices, the nonprofit organizations themselves might consider thanking their donors and supporters on Leap of Kindness Day.
Leap of Kindness Day is a great day for nonprofit executives and development directors to drop off a thank you note or a special certificate to your donors and volunteers.
CLICK HERE - to read how WellSpring used Leap of Kindness Day to thank those who are helping them to end relationship and sexual abuse.
CLICK HERE - to watch a video of Rebuilding Together delivering a gift card to two of their best volunteers.
Larger companies can share Leap of Kindness Day everywhere
Some organizations have offices or facilities in multiple cities, states or even across the globe. The employees in all of these places all have an extra day every Leap Year. Leap of Kindness Day can be celebrated everywhere.
In Saratoga County, Fingerpaint Marketing invited their employees in New York, Philadelphia, Arizona, and New Jersey to participate. They shared photos on social media of the acts of kindness performed on that day by employees in each office.
In 2016, thanks to GLOBALFOUNDRIES, we even saw one post from their employees in India taking part in Leap of Kindness Day.
Invite elected officials to participate in Leap of Kindness Day
Leap of Kindness Day is meant to be a day when we all do something kind for someone else no matter what political party we may support.
Invite your local elected officials to participate. They might want to volunteer or host a free event for seniors. Maybe they want to make a special donation to a local organization or to join with others collecting clothes, food or other supplies for the homeless, Veterans, etc.
Inspire people of all ages to get involved in your community!
What will the people who live in your community do with their extra day during Leap Year? We say invite them to participate in Leap of Kindness Day, on February 29th. They may bake cookies for their teachers or buy lunch for someone in the armed services and thank you for the inspiration!
Everyone can participate in Leap of Kindness Day 2020
Below is a list of just some of the many acts of kindness organized by individuals, businesses, nonprofits, schools, etc., in Saratoga County, New York, to celebrate the first Leap of Kindness Day, February 29, 2016. Perhaps one of these ideas will inspire you to participate in Leap of Kindness Day, on Saturday, February 29, 2020.
Students in the Clean Technologies & Sustainable Industries Early College High School will be doing 4 different events (2 for Brave Will, Adopt a Soldier, breakfast for bus drivers).
The staff at Saratoga Arms will provide the Saratoga Chapter of Hospice a kindness bag, full of Saratoga Arms food, treats and amenities.
Senator Kathy Marchione is hosting a Leap of Kindness event with free coffee and donuts at the Mechicville-Stillwater Senior Center, from 8:30 a.m. to 9:30 a.m. on Monday.
Specialty Silicones is collecting items to make a donation to Adopt-a-Soldier.
Sweet Mimi's Cafe will be delivering 4 dozen of our signature chocolate chip cookies to the Saratoga Hospital Nursing home. Our cookies always inspire a smile!
Saratoga Family Dentistry will be participating in the Leap of Kindness Day by asking all 7 of our practice locations to donate items for the Saratoga County Animal Shelter. We are also asking patients of our Saratoga to help pool together donations as well.
Skidmore Dining Services is donating dinner to Code Blue and Skidmore students will deliver it!
CAP COM Federal Credit Union will be donating to the Respite Program at AIM Services Inc. and delivering breakfast to the NYS Troopers and the Malta-Stillwater EMS.
The ACTIVE Network is selling homemade breakfast items, appetizers, various foods and Mocktails in the office to collect donations.These donations will be used to pay it forward to our local CODE BLUE SARATOGA.
On February 10 -12 Alpine Sport Shop customers received travel mugs as gifts. Through the month of February, they could bring it to UnCommon Grounds, it was filled with coffee, and they received a bagel for free! This special promotion ends on February 29, Leap of Kindness Day. Alpine Sport Shop is also donating over $1000 to St. Baldrick's Foundation in honor of Leap of Kindness Day.
The Tunison Funeral Home will be dropping off socks for the residents and cookies for the staff at The Wesley Community.
ACO Property Advisors, Inc. will be donating canned goods to Franklin Community Center Food Pantry.
St. Clement's religious education grade 8 girls plan to make a food donation to the St. Clement's food pantry and make greeting cards for residents at Prestwick Chase.
Mrs. Nelsen's 4th grade class at Caroline Street School are making cards for the residents at Prestwick Chase.
NHS and NJHS students from Galway will be: playing monopoly at The Home of the Good Shepherd, making breakfast for CSEA employees, delivering baskets of snacks and cookies to EMS and firefighters, conducting a basketball clinic and making cards.
Roohan Realty is collecting snack items for the Franklin Community Center's Project Lift as well as items for Operation Adopt-a-Soldier. The firm is also hosting a dessert social for seniors at the Embury Apartments.
The Joint Clifton Park is collecting for the Shenendehowa Helping Hands Food Pantry. We have a list of items they are looking for. We are also going to pay it forward by giving a free adjustment card to patients who make a donation. (One card per patient, not per item.)
Hampton Inn and Suites is serving breakfast to the Saratoga Springs Fire Department.
The Adirondack Trust Company is delivering flowers to residents of two area nursing homes AND hosting a food drive in all of their branches.
US Foods is collecting food from their employees in Clifton Park and matching those donations as well as preparing food for two area shelters on that day.
First graders at Geyser Road Elementary are making spring banners and decorations for the nursing home at Saratoga Hopital.
Girl Scout brownie troop #3134 of Saratoga is doing a clothing food and hygiene product drive for the Franklin Community Center.
Polyset is serving breakfast and lunch to the Clifton Park - Halfmoon EMS.
GLOBALFOUNDRIES has invited its 18,000 employees across the world via email to do something kind for someone else on February 29th. Locally, Fab 8 employees are also encouraged to donate food items for distribution to area food pantries.
Chamber Board members have joined together to deliver some treats from The Iron Roost to the Saratoga County Sheriff's Department.
First National Bank of Scotia is collecting Books for Troops! at all of their branches.
DA Collins Company is collecting food for Shelters of Saratoga
The Saratoga Regional YMCA is collecting items in need for the Code Blue Shelter.
Bonacio Construction is collecting non-perishable items for the Franklin Community Center Food Pantry.
Saratoga National Bank is collecting pet food for patients at the Saratoga Hospital Community Health Center.
The Warren-Washington-Saratoga BOCES culinary arts program is making boxed lunches for the Saratoga Springs Police Department.
Bow Tie Cinemas is hosting a Rare Disease Day at the movies on February 29th to benefit several local nonprofits started by local families.
The Ballston Spa Business and Professional Association is collecting white ankle high socks that will be donated to the residents at the Saratoga Rehabilitation and Skilled Nursing Home.
The Saratoga Rehabilitation and Skilled Nursing Home will pay it forward by bringing cookies to the Ballston Spa Fire and EMS departments.
The Saratoga Nursing Center will putting together a donation of items for Code Blue.
Saratoga Bridges is collecting Canned Kitten food & Toys, Children's Toys, School Supplies and Plastic Shopping Bags to benefit the Saratoga County Animal Shelter & Saratoga Center for the Family.
The Chamber's Veterans Business Council is collecting items for the men's and women's Veterans Shelters in Saratoga County.
NBT Bank is hosting a food drive for local food pantries.
The Saratoga County Department of Public Health is collecting food for a local pantry and pet food for the Saratoga Hospital's Community Health Center.
Saratoga Bariatric Surgery and Weight Loss Program are going to make a basket for the Naval Clinic in our building at 1 West and fill it with Coffee Mugs and Dunkin Donuts Cards to say Thank you for Your Service!
Fingerpaint Marketing is asking all of their employees in all of their locations around the US to pick from a list of a dozen acts of kindness that each person can do urging recipients to pay it forward.
Hedley & Company, CPA's is hosting a food drive for CAPTAIN Youth and Family Services.
Capital Interiorscapes will be making a donation of food to the Malta Food Pantry.
National Grid is holding a food drive to collect food from their employees for distribution to area food pantries.
Holiday Inn - Saratoga Springs is offering all Veterans a free meal on Monday, February 29th.
Family Vision Care is collecting personal hygiene items for the Franklin Community Center with donors getting $20 off your eyewear purchase in February.
Stewart's Shops donated 700 free coupons for a cup of coffee that we're distributed to attendee's at the Chamber's annual dinner so that they can buy someone else a cup of coffee on Leap of Kindness Day.
Hampton Inn & Suites - Clifton Park is collecting donations for the Chamber's Veterans Business Council as they seek to help Veterans across Saratoga County.
Espey Manufacturing will be showing their appreciation to US Navy Sailors stationed in Saratoga County.
Chamber Board members are teaming up with Hattie's and Posie Peddler for secret special thank you's for two different organizations.
The Gideon Putnam Hotel is donating cases of Shampoo and Conditioner to Operation Adopt a Soldier.
Herzog Law Firm is collecting food and donations to benefit the food pantry at Franklin Community Center in Saratoga.
Zieker Eye Ophthalmology will collect canned goods for the Franklin Community Center.
Healthy Living Market Saratoga and Chamber Board members have teamed up to deliver some goodies to the overnight shifts at the Malta Emergent Care Center and the Ellis Hospital Urgent Care Center in Clifton Park.
The US Chamber of Commerce, through their Employees Caring for our Communities initiative is urging all of their employees to join our celebration by doing something kind for someone else and sharing their acts online using the #leapofkindnessday hashtag.
Check out some of the TV news coverage for Leap of Kindness Day 2016 in Saratoga County, NY