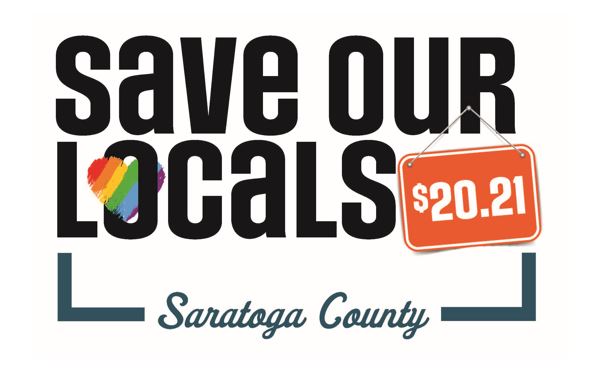 Support our local Saratoga County businesses and enter for a chance to win!
How to Enter
Whether eating out, shopping for fun, getting your taxes done, decorating your home, heading to the gym, hiring a contractor, prepping for the upcoming holiday season, or grabbing food to go, if your purchase at any locally owned Saratoga County business totals at least $20.21, you're eligible!
Entering is simple:
Spend at least $20.21 at a local Saratoga County business
Take a photo of your receipt, including purchase total and business name
Email the photo to saveourlocals@saratoga.org
Follow our social media channels to see if you're a weekly winner! (Winners will be contacted personally via email)
For the next 10 weeks, we'll pick at least five lucky winners weekly to enjoy a $100 gift card from a variety of local Saratoga County businesses.
A little extra love for our businesses – and a little extra cash in your pocket – it's a win-win for all!
Save Our Locals is back, and it's better than ever!
We're excited to introduce Save Our Locals $20.21




It's a campaign that benefits our local businesses … and you!
Begun during the height of COVID-19 last year, Save Our Locals is a way for us all to show support for our favorite businesses and help play a role in ensuring they can keep their doors open for a very long time to come.
The campaign runs from Friday, October 15 – Friday, December 31
Saratoga County residents and out-of-town visitors are encouraged to spend $20.21 or more at any local shop, restaurant, salon, florist, fitness studio, car dealership, contractor, roofer, or any other business in Saratoga County to be entered in for the chance to win one of 40 $100 gift cards.
For more information on Save Our Locals $20.21 or how to support our vibrant community, please email saveourlocals@saratoga.org.
If you're just visiting, while you're here, you can enjoy our great shops and restaurants AND grab a chance to win $100 gift cards!