Leap Of Kindess Day February 29, 2024
Leap of Kindness Day was invented by the Saratoga County Chamber of Commerce in 2016. The idea was to inspire our members and community to use their extra day that Leap Year to do something kind for someone else, and hundreds of local organizations helped thousands of local people on February 29, 2016.
In 2020, Leap of Kindness Day was even bigger and better as more than 200 chambers in the US, Canada, and Ireland joined us and organized their own celebrations. In Saratoga, people donated their time, talent, and treasure to help so many people, local charities, and nonprofit organizations, and to thank first responders, teachers, school bus drivers, Veterans, etc.
In 2024, we will once again celebrate Leap of Kindness Day, on Thursday, February 29, 2024, and everyone is invited to join us!
To make this happen, local nonprofit organizations can send an email to Liz Roggenbuck at lroggenbuck@saratoga.org to share what your organization needs in 2024. These requests will be posted on this webpage, and community members should check back often to see what specific acts of kindness will be most impactful here in Saratoga.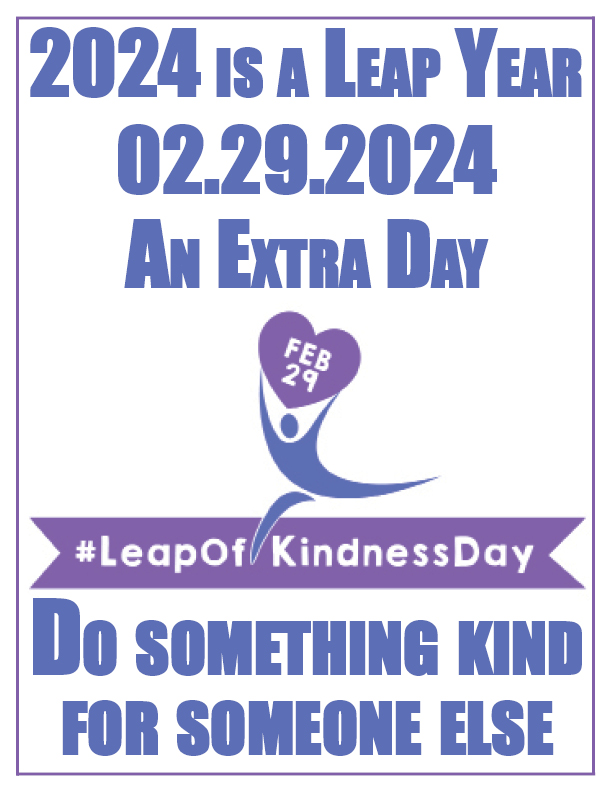 Here's how to participate...