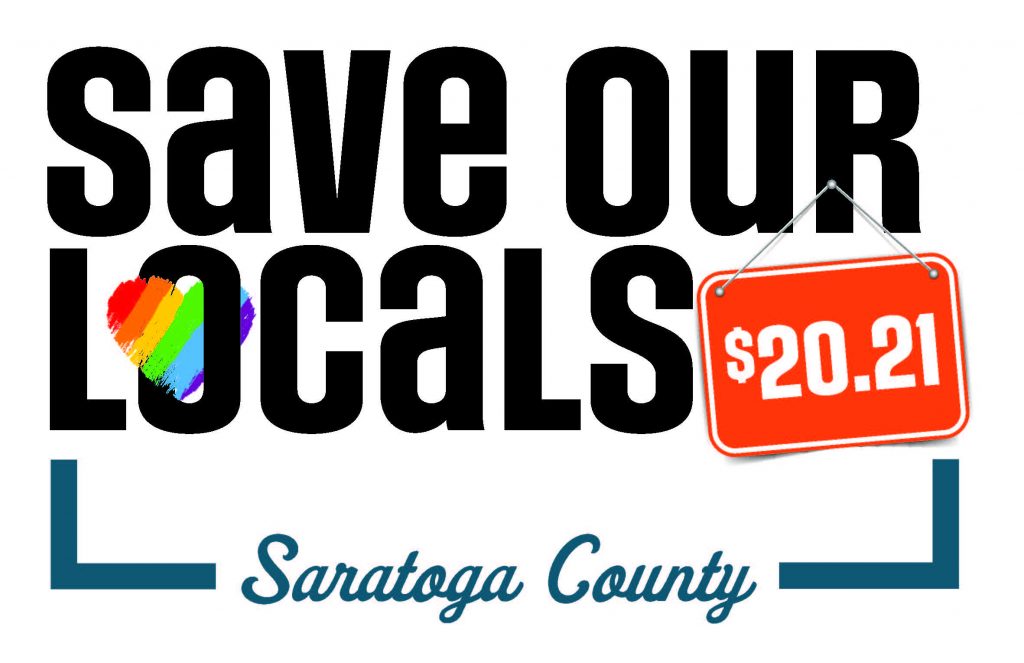 Support our local Saratoga County businesses and enter for a chance to win!
Save Our Locals is back, and it's better than ever! We're excited to introduce Save Our Locals $20.21 – a campaign that benefits our local businesses ... and you!
Begun during the height of COVID-19 last year, Save Our Locals is a way for us all to show support for our favorite businesses and non-profits while helping to play a role in ensuring they can keep their doors open for a very long time to come.
Starting on Friday, October 15, Saratoga County residents and out-of-town visitors are encouraged to spend $20.21 or more at any local shop, restaurant, salon, florist, fitness studio, non-profit organization, car dealership, contractor, roofer, or any other business in Saratoga County to be entered in for the chance to win one of more than 50 $100 gift cards. The campaign will run until Friday, December 31.
Whether eating out, shopping for fun, making a donation to a good cause, getting your taxes done, decorating your home, heading to the gym, hiring a contractor, prepping for the upcoming holiday season, or grabbing food to go, if your purchase or donation at any locally owned Saratoga County business totals at least $20.21, you're eligible! Entering is simple:
Spend or donate at least $20.21 at a local Saratoga County business or non-profit organization
Take a photo of your receipt, including purchase total and business name
Email the photo to saveourlocals@saratoga.org
Follow our social media channels to see if you're a weekly winner! (Winners will be contacted personally via email)
Over the course of the next 10 weeks, we'll pick at least five lucky winners weekly who will each enjoy a $100 gift card from a variety of local Saratoga County businesses. A little extra love for our businesses – and a little extra cash in your pocket – it's a win-win for all!
For more information on Save Our Locals $20.21 or how to support our vibrant community, please email saveourlocals@saratoga.org.
Weekly Gift Cards
Each week, we'll select a set of lucky winners who will win one of the gift cards below!
Donate to local non-profit organizations!
Did you know your donations to local non-profit organizations are also eligible for entry to Save Our Locals $20.21?
Donations can be made to the participating Saratoga County non-profit organizations below. Simply click on the organization's logo you'd like to donate to, and you'll be redirected to its donation webpage. Forward your electronic donation receipt to saveourlocals@saratoga.org for entry and a chance to win!
Business Owners!
Want to help us promote Save Our Locals $20.21?
Hang up one of our community posters below in a prominent spot in your business
to remind customers, clients, and employees about how we can all make a difference!
Posters can be downloaded by clicking on the images below.