Transport yourself into the glorious past by visiting our many historic sites, museums, and halls of fame.  Or simply stroll around town and take in the historical architecture and Victorian-era homes.
The 250th Anniversary of the Battles of Saratoga is Just Around the Corner!
The Saratoga County 250th American Revolution Commission consists of 13 official members (in honor of the 13 original colonies) tasked with planning and organizing all ceremonies, events, activities and celebrations recognizing the 250th Anniversary of the American Revolution in Saratoga County.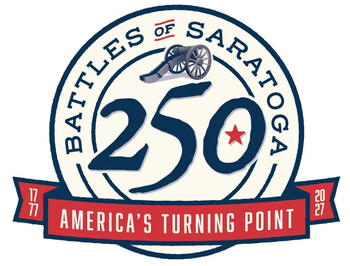 Heritage Tourism
See where American Revolutionary history took place in Saratoga County
Education
Learn about the many battles throughout the County and how the Battles of Saratoga became America's Turning Point
Historic Preservation
Help the Saratoga County 250th Revolutionary War Commission preserve Revolutionary War history
The 250th Commission will be at the Saratoga County Fair July 19 - 24, 2022 at the America's Turning Point Marquee tent which will feature educational displays, living history demonstrations, and children's activities.
Other events include:
The Turning Point Parade, August 7 in Schuylerville
Path Through History Weekend October 8 & 9 at the Schuyler House
Living History Education Workshop on October 28 for history teachers to learn how to bring living history into their classrooms. Educators will receive CTLE credits.
For more information as well as upcoming events, view latest news or visit www.saratoga250.com
518-670-2985
648 Route 32, Stillwater
Visit Website»
This park on the Hudson River includes the site of the Battles of Saratoga, which was the first American military victory of the Revolutionary War. The Park's tour road is open to cars, bikers, and hikers. Bring a bike and a picnic lunch, and enjoy the spectacular views.
518-584-4353
1000 Mt. McGregor Rd., Wilton
Visit Website»
Grant's cottage has his original furnishings, decorations, and personal items, including the bed where he died in 1885. This Living History museum offers a variety of events from Memorial Day through Labor Day, and Columbus Day weekend.
3) National Museum of Dance & Hall of Fame
518-584-2225
99 S Broadway, Saratoga
Visit Website»
Located in the former Washington Bathhouse, a historic building in the Saratoga Spa State Park, the musuem puts on events and houses an extensive collection of archives and exhibits. You might also want to check it out as a great place to hold a wedding.
4) National Museum of Racing and Hall of Fame
518-584-0400
191 Union Avenue, Saratoga
Visit Website»
Directly across from the Saratoga Race Course, the musuem houses a diverse collection of art, artifacts, and memorabilia. Don't miss their racing simulator--you can mount up and feel what racing is like from the jockey's point of view.
5)  Brookside Historical Society
518-885-4000
6 Charlton St, Ballston Spa
Visit Website
Brookside tells Saratoga's story through interactive and engaging exhibits and programs that will keep kids and adults fascinated. If you'd like to dive into your own research, research assistants are available.
6) Saratoga Automobile Museum
518-587-1935
110 Ave of the Pines, Saratoga
Visit Website»
Located in the Spa Park, SAM offers a wide range of public programs for audiences of all ages throughout the year, including gallery tours, exhibition talks, and tech sessions for general audiences. Drop-in tours of current exhibitions are available on Thursday and Saturday afternoons.
7) The National Bottle Museum
518-885-7589
76 Milton Ave., Ballston Spa
Visit Website»
Did you know that bottle-making was one of the nation's first major industries, and that all bottles were handmade until the early 1900's? Open year round, and offers glass making classes too!
8) Saratoga Monument
518-670-2985
Burgoyne St., Schuylerville
Visit Website»
Situated on a high bluff where Burgoyne's last camp was. It commemorates the American victory in the Battle of Saratoga, called "the most important battle of the last 1000 years."
9)  General Phillip Schuyler House
518-670-2985
Rte 4, Schuylerville
Visit Website»
This restored 1777 country house of American General Philip Schuyler is located in the Village of Schuylerville, approximately 8 miles north of the Battlefield. This is also where Alexander Hamilton married Philip Schuyler's daughter, Eliza. From May through Labor Day, Schuyler House is open for guided tours.
10) New York State Military Museum
518-581-5100
61 Lake Ave., Saratoga
Visit Website»
The museum is housed in the former 1889 armory displaying 10,000+ uniforms, weapons & art from the Civil War to the present. You'll get an illuminating glimpse into NY state's role in America's various conflicts. Admission is free and the staff is very helpful and engaging.
11) Saratoga Springs History Museum
518-584-6920
1 East Congress St., Saratoga
Visit Website
Located in the historic Canfield Casino building in Congress Park. Three floors full of artifacts and photographic archives housed in permanent collections and current exhibitions. Open Wednesday-Sunday, 10am-4pm.
12) The Hyde Collection
518-792-1761
161 Warren St., Glens Falls
Visit Website
The Hyde Collection is one of the Northeast's exceptional small art museums with distinguished collections of European and American, and Modern and Contemporary art. Its permanent collection holds nearly 4,000 works, spanning centuries. Open Tuesday-Saturday 10am-5pm, Sunday Noon-5pm