8 Best Places for Cross-Country Skiing & Snowshoeing in Saratoga
February 19, 2020
Saratoga County is a winter destination for snow sports, and whether you're a fan of cross-country skiing or snowshoeing, there is a trail that's just right for you. From nature preserves to state parks and recreational hotspots, these 8 great places are waiting to be explored.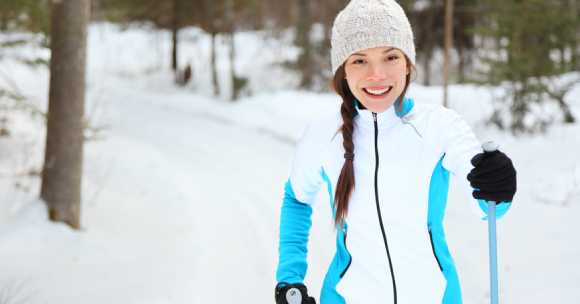 With free admission in winter and miles of trails, Saratoga Spa State Park is an amazing place to go for snowshoeing or cross-country skiing. The designated ski and snowshoe trails travel throughout the entire park, which gives you a chance to see all the scenic sights. Most of them are perfect for beginners, and the trail loops range in distance from .7-mile to 1.7 miles.
Don't own snowshoes? Simply visit the park's Administration Building and rent a pair for a small fee. Saratoga Spa State Park is a short drive south of downtown Saratoga where you'll find a wide range of restaurants offering quality food and drinks.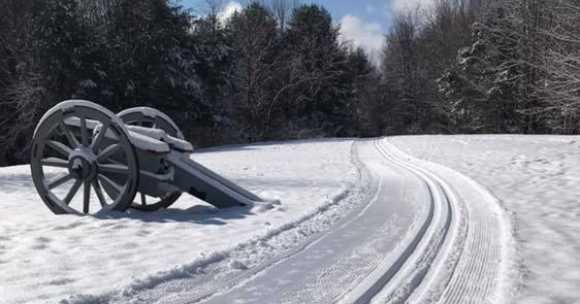 Photo Credit: National Park Service
As many locals and history buffs know, Saratoga National Historical Park is the site of the Battle of Saratoga, a major turning point in the American Revolution. Located in the Town of Stillwater, this National Historical Park consists of the Battlefield grounds, the historic Schuyler House, the Saratoga Monument, and Victory Woods. Admission to the park is free, and the Battlefield features several miles of hiking trails that are open to visitors.
When snow coats the ground in winter, the Battlefield transforms into a cross-country skiing and snowshoeing destination. Weather permitting, you can strap on your skis or snowshoes, check out the designated hiking trails, and take a tour through local history. Afterward, grab a bite to eat close by at The Hideaway in Saratoga Springs or Soup R Pizza farther down into Stillwater.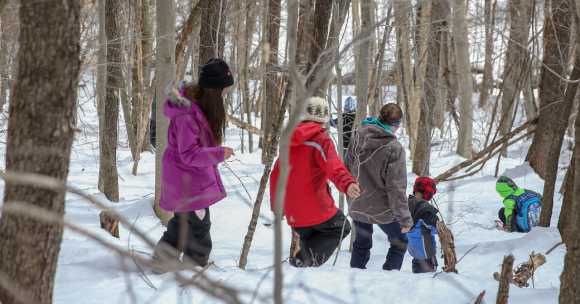 Into the Woods Farm in Middle Grove is a small educational farm that offers goat yoga during the warmer months and snowshoe adventures in winter. These guided tours are open to all ages and will take you through a beautiful snow-covered forest and past streams and wetland areas.
The farm hosts weekly snowshoe adventures throughout most of the winter. You can also book a private adventure with a group of four or more any day of the week with advance notice. Snowshoe rentals are available upon request, but you're welcome to bring your own. In addition, if the snow isn't too deep, you can have Into the Woods Farm's herd of Nigerian Dwarf Goats come along for the trip.
Middle Grove is located in western Saratoga County, and some popular dining spots include Tinney's Tavern, The Post Cafe, and Village Pizzeria & Ristorante.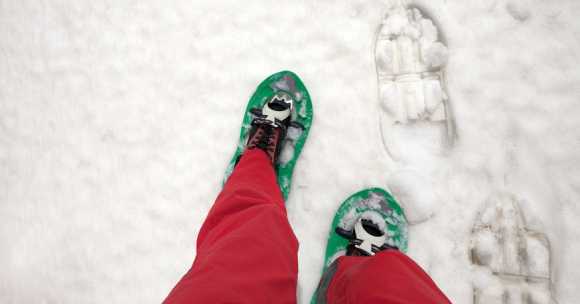 Managed by the Town of Clifton Park, the Vischer Ferry Nature & Historic Preserve is a hiking, birding, cross-country skiing, and snowshoeing hotspot in southern Saratoga County. The 700+ acre property curves along the Mohawk River and features wetlands, floodplain, and an extensive trail system that's open to the public year-round.
There are four entrances to the preserve, and the main route is the Vischer Ferry Trail, approximately 4.5 miles long. As you ski or snowshoe along the trails, keep an eye open for the historic sites and signage situated throughout Vischer Ferry. You may learn something new about the area you're exploring.
Early risers should grab breakfast at the nearby Vischer Ferry General Store so you can be ready for the day's workout. Or, if you're looking to refuel soon after your adventure, Upper Crust and Pancho's are two casual Clifton Park eateries open for lunch and dinner.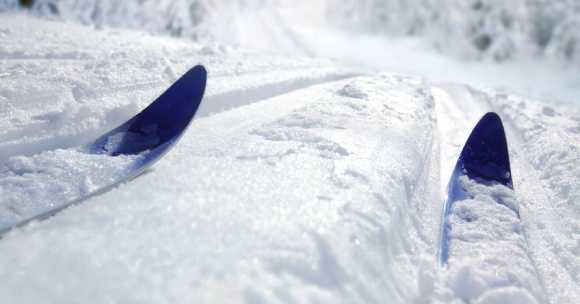 Each winter as weather permits, the Shenendehowa Nordic Club grooms trails for classic and skate skiing at Garnsey Park, Kinns Road Park, and the Shenendehowa Central Schools campus. Here's what you can expect at these three locations:
Garnsey Park in Rexford - Garnsey Park is home to over 150 acres of rolling meadows and wooded ridgeline, and the Shen Nordic Club grooms a three-mile trail for snowshoers and cross-country skiers. You can also tackle the ungroomed woods trail for a more challenging experience.
Kinns Road Park in Clifton Park - Cross-country skiers and snowshoers of all skill levels will love traversing the wooded trails at Kinns Road Park. The three-mile route has a few short, steep hills, but otherwise is fairly easy.
Shenendehowa Central Schools in Clifton Park - The Shen Nordic Club grooms a three-mile route that's used by ski teams, youth programs, and members of the local ski community. The campus features 357 acres of grounds and playing fields.
Photo Credit: Hudson Crossing Park
Centered around the Champlain Canal Lock 5 Island in Schuylerville, Hudson Crossing Park is a recreational and educational park that's open year-round, dawn to dusk, with no admission costs. Visitors can enjoy a wide range of activities at the site, including hiking, fishing, birding, paddling, snowshoeing, and cross-country skiing.
Hudson Crossing Park features over two miles of nature trails with panoramic views of the Hudson River and Champlain Canal. The park's historic Dix Bridge connects Washington County with Saratoga County and welcomes adventurers to cross over the Hudson River.
You can access Hudson Crossing Park by driving about one mile north of downtown Schuylerville on Broad Street. Its convenient location makes it easy to round out your trip with some local cuisine at Clark's Steakhouse or Revolution Cafe.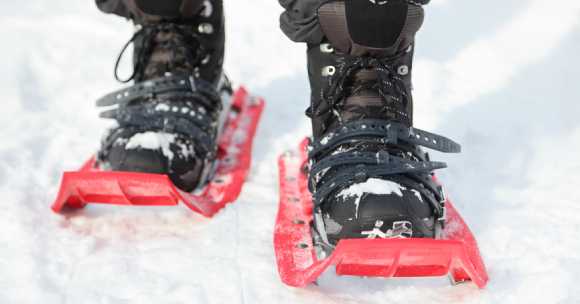 Travel east of downtown Saratoga along Lake Avenue/Route 29 and you'll soon arrive at the trailhead for the Bog Meadow Brook Nature Trail. This two-mile path is a local favorite among nature lovers, and both the trail and surrounding Meadowbrook Preserve are open to the public year-round. The Bog Meadow Brook Nature Trail is maintained by the nonprofit organization Saratoga PLAN and owned by the City of Saratoga Springs.
This scenic nature trail travels along an abandoned railroad, and during winter, you can hike, snowshoe, or cross-country ski up and down it. Motorized recreational activities are not allowed on the trail, making it a particularly peaceful location.
Plus, just minutes from the trailhead is Beer Wine Pizza, a bar & grille where you can treat yourself to some hand-tossed pizza and tasty beverages. It's the perfect end to a snowy winter excursion in Saratoga.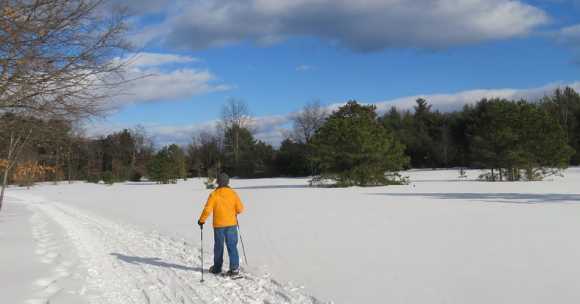 Photo Credit: Linda Morzillo, provided by Wilton Wildlife Preserve & Park
Wilton Wildlife Preserve & Park in Gansevoort is a local leader in conservation, environmental education, and outdoor recreation. When snow accumulates in winter, volunteers groom 3.5 miles of trails on the Camp Saratoga and Opdahl Farm parcels. These trails are open to the public for classic skiing, skate skiing, and snowshoeing as weather permits.
Beginning from the parking lot, there are three main trail loops ranging in difficulty from beginner to intermediate level. Wilton Wildlife Preserve & Park typically offers snowshoe and ski rentals for a small fee on weekends (free for members). You can also stop by the rental cabin for a trail map, current events flier, or a cup of hot cocoa.
The park is located east of I-87 in Gansevoort. If you take a short drive west of I-87, you'll find a number of great places to dine in the community, such as Scotty's Restaurant or Winslow's Restaurant. Your stomach will thank you after spending a few hours on the trails.
A winter wonderland of fun awaits in Saratoga County!
Celebrate the season and pick one of these 8 places for your next skiing or snowshoeing trip.