Check Out These Top Fishing Spots in Saratoga County
Head to these lakes, rivers, or ponds in Saratoga County for prime fishing opportunities, including the place where the largest Northern pike to date has been caught in this country.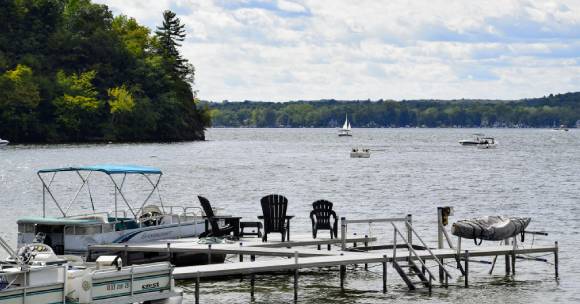 Photo credit: Hope Relly-Cobb
The DEC states that Saratoga Lake is stocked with approximately 8,600,000 walleyes by the DEC annually, and anglers can also find smallmouth bass, largemouth bass, northern pike, yellow perch, brown bullhead, redbreast sunfish, rock bass, black crappie, bluegill, chain pickerel, and pumpkinseed. 
For walleye and smallmouth bass the DEC recommends fishing near a rocky shore; for the northern pike anglers should fish at the edge of weed beds. Anglers seeking panfish should use small jigs and live bait. There is a boat launch off Route 9P that is free for the public to use, and there are also several marinas. 
Saratoga Lake is approximately 4.5 miles long and is fed by the Kayaderosseras Creek. Fish Creek is the outlet at the northern end of the lake.
View DEC's contour map of Saratoga Lake »

Looking for trout fishing? Head to Kayaderosseras Creek, which is stocked with brown trout by the DEC annually in addition to rainbow trout stocked by the Town of Milton and brook trout (in the northern part) by Saratoga County.
Although it has "creek" in the name this is actually the largest river that lies completely within Saratoga County. The DEC divides the river into four sections with regard to fishing - South Corinth, Porter Corners, Rock City Falls, and Milton Center-Ballston Spa. 
Check out the fishing maps for Kayaderosseras Creek »

Moreau Lake State Park in Gansevoort is a 4,531-acre state park known for its year-round hiking trails and many recreational opportunities, including boating and fishing. The lake offers easy access for small boats and the majority of lake's shoreline is on the state parkland.
You'll find largemouth bass and rainbow trout along with smallmouth bass, yellow perch, brown bullhead, chain pickerel, and pumpkinseed. The northern end of the lake where it's more shallow and weedy allows for optimal conditions for largemouth bass and chain pickerel.
See the contour map for Moreau Lake »

Great Sacandaga Lake is home to largemouth bass, smallmouth bass, yellow perch, brown bullhead, Northern pike, walleye, redbreast sunfish, rock bass, brown trout, rainbow trout, channel catfish, common carp, and black crappie. The Great Sacandaga Lake Fisheries Federation, DEC, and Saratoga County stock rainbow trout each year; the GSLFF has also stocked walleye. 
Fun fact: The largest recorded Northern pike in the US was caught in Great Sacandaga Lake in 1940. It weighed 46 pounds and two ounces and held the world record until a 55-pound Northern pike was caught in Germany in 1986.
There are four boat launches on Great Sacandaga Lake: the Northville Boat Launch site off Route 30 in Northville, the Town of Day Boat Launch site on North Shore Road, the Northampton Beach Campground and Day Use Area boat launch in Mayfield, and the Broadalbin Boat Launch site off County Route 110 in Broadalbin.
View the counter map of Great Sacandaga Lake »
Find More Saratoga Area Fishing Spots to Check Out
Discover more fishing opportunities at the following brooks, ponds, and more, all of which are typically stocked with fish each year. 

Stocked: rainbow trout
Bog Meadow Brook follows along the two-mile walking path of the same name in Saratoga Springs, and there is easy access along the route for rainbow trout, largemouth bass, bluegill, and chain pickerel. 

Stocked: rainbow trout
Corinth Reservoir Recreation Area in Corinth consists of the reservoir ponds and the upper reservoir, both of which are excellent for fishing and are stocked with rainbow trout.
See the map of recreation area »

Stocked: brook trout
Located in the Dwaas Kill Nature Preserve in Clifton Park, this stream is filled with brook trout stocked by the State and Saratoga County, and wild trout were confirmed several years ago as well. There is a 0.5-mile fishing trail accessed from the Long Kill Loop Trail.
Stocked: brown trout
Geyser Brook in Saratoga Springs converges with another fishing hotspot, Kayaderosseras Creek. It also meanders through Saratoga Spa State Park. This brook is stocked annually, many by elementary school students during a popular springtime event. 
Stocked: Rainbow trout
Snook Kill near Greenfield Center is known for rainbow trout, brown trout, and creek chub. 
Check out the fishing map for Snook Kill »
Stocked: Rainbow trout
The Glowegee Creek flows between Galway Lake and close to Milton and Ballston Spa and is stocked with rainbow trout.