2021 Saratoga Summer Racing Options
Updated June 4, 2021 
Original post: July 6, 2020
Race Course 2021 Season to Resume at Near 100%
The 2021 Saratoga Race Course season will run from July 15 through Labor Day, Wednesdays-Sundays.
Governor Andrew M. Cuomo, in conjunction with the New York Racing Association, announced that Saratoga Race Course will re-open to fans at near full capacity when the 2021 summer meet commences on July 15.
There will be free grandstand admission on opening day to all fans who show proof of vaccination through the Excelsior Pass or through an alternate form of proof of vaccination. NYRA will designate most sections for vaccinated fans, including the popular Saratoga backyard. There will also be some seating designated for non-vaccinated fans.
The season will feature 76 stakes races worth $21.5 million in total purses. Tickets will go on sale June 9.
Click for more information on the Saratoga Race Course! »
Places in Town to Watch Live Racing
from the Saratoga Racetrack
365 Broadway, Saratoga Springs, NY 12866
Call for reservations: 518-678-6000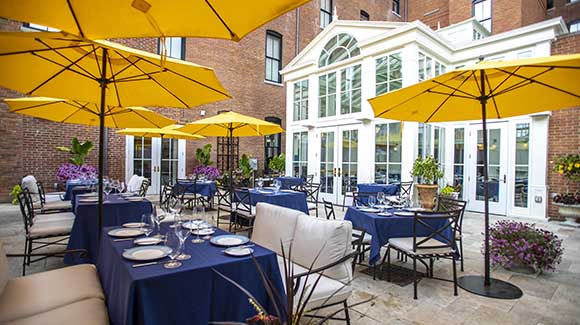 Yes! You can enjoy Saratoga's Historic Racecourse, from the heart of downtown Saratoga Springs! Reserve your personal table and watch all of the races LIVE from Saratoga Racecourse and beyond. Upon arrival, enjoy your own personal-sized bottle of champagne, watch simulcast racing on the Adelphi's giant projector screen & 65″ flatscreen TVs, take group photos at their "Trackside" photo area, and shop at their local vendor booths! Throughout the day, guests may order from the Trackside dining menu featuring innovative lite fare & large plates, craft beer, wines by the glass or bottle & daily cocktail specials. Admission is free, and valet parking in private parking lots is available.
Reservations are required so call (518) 678-6000 to reserve your table for the entire day!
458 Union Avenue, Saratoga Springs, NY 12866
Call for reservations: 518-306-2330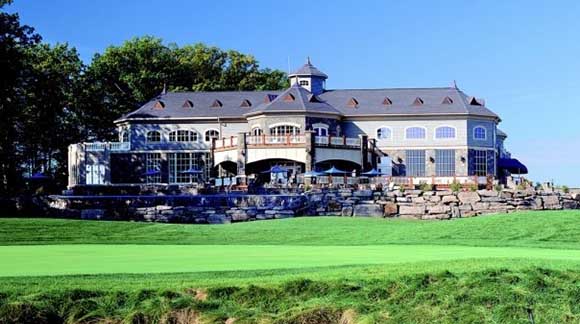 RESERVED TABLES ON THE TERRACE   12:30PM - 6:30PM RACE DAY   $50 PER SEAT
Enjoy "A Day at the Races" in style with a reserved table on the terrace with premier televised views and audio of simulcast races from Saratoga Race Course! Reserved tables are $50 per seat, with a $30 food/beverage credit, plus many more amenities to make for a great day! Reservations can be made by calling 518-306-2330 or emailing DSHERIN@GOLFSARATOGA.COM.
250 Excelsior Avenue, Saratoga Springs, NY 12866
Call for reservations: 518-350-4515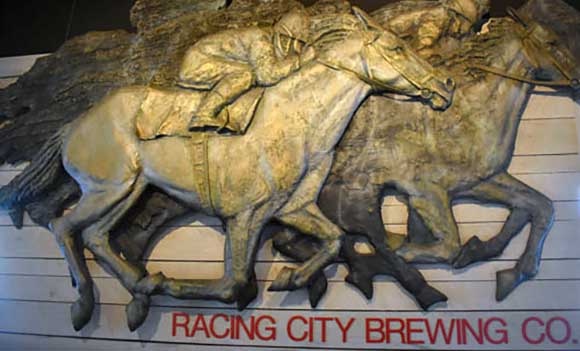 Make Racing City Brewing Co. and Oliva Winery your place to enjoy the excitement of horseracing in Saratoga while you're unable to attend in person at the track. They have several TVs, including the largest projection screen in the area at 24 feet, which makes Racing City Brewing Co. and Oliva Winery the next best place to being at the track. Reserve a table for a day of racing
The Saratoga Casino - Simulcast Wagering at the Jackpot Deli and Mezzanine Bar
342 Jefferson Street, Saratoga Springs, NY 12866- First Come, First Serve Seating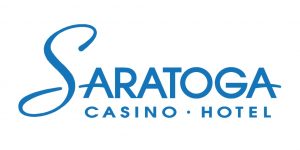 The Jackpot Deli will open Thursday, July 16 for dining and simulcast wagering!
Simulcast wagering will be available via self-service betting machines and you can watch the action from Saratoga Race Course on over 100 TVs. $10 Admission includes a $10 food & beverage voucher. Seating will be limited and is first come, first serve.
Open Wednesdays, Thursdays and Sundays 11:30am – 7pm and Fridays and Saturdays 11:30am – 9pm.
***Please Note: There is currently no reopening date announced for the actual Casino***
Looking for Even More Places With Both Outdoor and Indoor Dining Options?
Watch the races from the 15 Church Patio equipped with TV's, gourmet food and plenty of champagne! Reserve a table for the day, the week, or the entire meet. Call (518) 587-1515, reservations required.
Watch the races from our patio or inside our dining room at a safe distance! Races will be televised for you to enjoy and bet on your smartphone. Make sure to check out their specials for track days! Seating starts at 4:00pm!
Watch the Races live at the Saratoga Applebee's location while enjoying a selection of beer, wine and cocktails, paired with your Applebee's favorites!
Bookmakers at Holiday Inn features outdoor patio dining with fire pit and "BBQ on Broadway" menu, available from 1:00-8:30pm daily, featuring all of your favorites grilled to order and icy cold drinks from the bar.  We'll have live racing displayed on our new 55" HDTV and NYRA gift cards available for purchase to make betting a snap on your mobile app.
Located right on Broadway, BurgerFi will be broadcasting live horse racing throughout the season. Open daily from 11:00 AM-10:00 PM, serving natural Angus beef burgers, Vienna beef dogs, hand-cut fries and more. Beer and wine are also available.
Our Patio is Open! Come on Watch All the Saratoga Races Live on One of Our 12 Outdoor TVs on our spacious patio out back!   To Reserve A Table Please Call 518-587-2022.  Race seating will start at 1pm!
Diamond Club Restaurant, located inside the Embassy Suites, is open Sunday through Wednesday from 11:30 AM-9:00 PM and Thursday through Saturday from 11:30 AM-10:00 PM. Private viewing rooms are available.
Once a popular post race day after hours retreat, now a fantastic place to view the races on TV! First come first serve, limited seating available Wednesday, Thursday, & Sunday. Reservations for outdoor tables only will be accepted on Friday and Saturdays. Outdoor tables will be limited to 2 hrs or a $250 fee to reserve a table for the duration of the races(Soda and Coffee included). To reserve please email Horseshoeinnbar@gmail.com
Conveniently located directly across from the historic Track, Kings Tavern will be open daily, 12pm-4pm.  Come watch the races with a mug of your favorite beer and chow down at one of Saratoga's favorite local watering holes!
Would you rather host your own "Watch Party"  at home?   Mazzone Hospitality is here to make it easier for you and your family and socially distant friends, to enjoy!! Their catering menus include anything from a casual cook out, to grilled shrimp and tenderloin!  They even took the next step for you...the option of renting large enough A/V for your viewing purposes to watch outdoors!!  Check out their information for specific track packages and rentals here.   Full menu options for summer entertaining, please click "Mazzone Hospitality" above.
Mouzon House offers horse race viewing on their roof top and outside bar. Then stay to enjoy happy hour and live music from 4:00-5:00 PM every day.
Center your whole night or weekend around horse racing at the Pavilion Grand Hotel, which has a unique, all-inclusive package to consider – the Saratoga Summer Rate. This package includes horse races shown via large screen TVs on their rooftop, along with a $50 gift card to 30 Lake restaurant for rooftop use, $100 NYRABets gift card for use on your personal account, and much more! The live airing of the races is only available to guests utilizing this package. To reserve your stay, call (518) 583-2727 today.
*Outdoor and indoor dining available.
Peabody's is a local favorite for wings and drinks. Watch live horse racing on one of their 23 TVs. Race day packages and drink specials are offered all summer long.
Watch live horse racing at Pint Sized!  They will have TV's indoors and outdoors.  While you are there, choose from the shop's 12 constantly rotating taps or crack open a craft can.  Open Monday through Saturday from 12:00pm-12:00am and Sunday from 12:00pm-9:00pm.
PJ's BAR-B-QSA opens at 11:00am Tuesday through Sunday. You can watch Saratoga's live horse racing on their TVs outside under the overhang or inside their socially distanced dining area. No reservations needed. Lots of parking spaces available. Families and children welcome! Enjoy your Taste Tour of American Barbeque while you watch the excitement of Saratoga!
*Outdoor and indoor dining available.
Putnam Place will be live streaming racing on the largest LED video wall in downtown Saratoga!  With their free wifi, you can conveniently place your bets on the betting app of your choice.  After the races, enjoy happy hour from 5:00-7:00pm, live music on the patio from 7:00-10:00pm and DJ from 10:00-1:00am.  Putnam Place is closed on Tuesdays.
Stop by Saratoga City Tavern for live horse racing all summer long!  Start at the first floor, which has an impressive 47 draught line up. The second floor, open on Friday and Saturday only, features ample TVs and draughts.   Take advantage of their roof top bar, which also has a TV and draught beer.  Open seven days a week, starting at 12:00pm.
Saratoga's premier family fun center will be showing live racing on their 10 TV's!  Bring the family and enjoy bowling, bumper cars and more! Open Monday through Saturday from 12:00-8:00pm.
It's almost officially track season 2020! Saratoga Racetrack opens this Thursday and we want to celebrate with you! Although you cannot watch the races in person this year, Sperry's is offering seats to sit and watch them with us! On Wednesday's and Thursday's, it will be $50 per person, $30 of that will go towards food and beverage credit. Friday's, Saturday's and Sunday's, it will be $75 per person with a $50 food credit. Call now to reserve your spot! Hope to see you there!
Saratoga's hottest new Italian restaurant offers live horse racing Wednesday through Sunday on their big screen TVs. On the weekends, enjoy freshly shucked-to-order oysters, littleneck clams and shrimp cocktail at their Curbside Raw Bar.
Watch live horse racing on one of the 5 flat-screen TVs during the summer meet, Wednesday through Sunday from 1:00-9:00 PM. Taverna Novo offers lite fare and a special trackside menu. Reservations recommended.
Open Tuesday through Saturday from 4:00-9:00 PM, The Brook Tavern offers causal indoor and outdoor dining for your race course viewing!
Can't watch at the racecourse.... Might as well do the next best thing!! Join us every day there is live Saratoga horse racing at Saratoga's favorite patio for all that great summer time action!!  Tables and Couch sections (safely distanced) available for reservation or walk up, 1st come 1st serve. 10 foot jumbo-tron, 20 high def outdoor televisions, full kitchen, full bar. Air conditioned patio!! Right in the heart of Saratoga!!
Catch all the horse racing action at The Local Pub and Teahouse, a favorite neighborhood bar. They are offering $4.00 Guinness, Stella and Hoegaarden pint specials, $6.00 house wine and well drinks by the glass. Their hours are Monday through Thursday 11:30am-11:00pm, Friday 11:30am until midnight, Saturday 9:30am until midnight and Sunday 9:30am-11:00pm.
This trendy cocktail bar opens Wednesday through Friday at 5:00pm and Saturday and Sunday at 3:00pm.  Order a specialty drink and enjoy the races at their main bar!
Saratoga's Irish tavern opens Wednesday and Thursday at 4pm, and Friday-Sundays at 12pm. Watch live horse racing on the big screen while enjoying classic Irish dishes and beer specials. Reservations not necessary.
Catch the live horse races at The Wine Bar. Enjoy a glass of wine from their extensive wine list from around the world. Closed on Monday and Tuesdays.
Westside Sports Bar has Saratoga horse racing on all their TVs. Customers can dine in a great sport atmosphere, enjoy a cold beverage and bet on their phone.   Daily race specials are offered!  Indoor and outdoor seating available.
We will continue to update this post as more options become available, so be sure to bookmark this page. If you would like to be added, please email Andrea Cole at ACole@Saratoga.org. 
Also check out what else there is to do in Saratoga this summer »