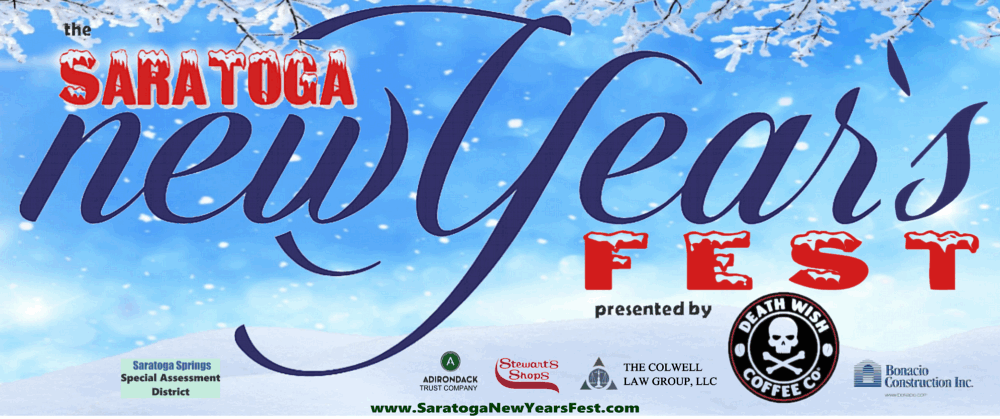 The Saratoga New Year's Fest
New York's Biggest New Year's Party North of Times Square
Featured Guests
HEADLINE SHOW @ the City Center
COWBOY JUNKIES
TORONTO, ON.
Alt-Country / Slo-Blues
18 Studio/5 Live Albums
Juno Awards: 2x /Canadian Hall of Fame
CANADIAN LEGENDS Original Members
Cowboy Junkies' The Trinity Session, now a classic recording, combined folk, blues and rock went on to sell more than two million copies. Their most recent album, All That Reckoning may be their most powerful yet.
FEATURED GUESTS @ the Headline Show
THE SAMPLES
DENVER, CO
Indie / Alternative - rock
Credited as the founding act of the so-called Dorm Rock genre of that era, their early reggae-meets-Dead sound drew comparisons to The Police. By their second album No Room, the Samples were staking their own ground as a leading act in the emerging indie- and alt-rock movements.
DELVON LAMARR ORGAN TRIO

 
SEATTLE, WA
Old-School jazz -Funk
The Delvon Lamarr Organ Trio delivers the lost art of "feel good music." with a helping of 60's organ jazz stylings of Jimmy Smith; a pinch of snappy soul strut of Booker T. & the M.G.'s and then sprinkles-in Motown, Stax, blues, and cosmic Jimi-style guitar. It's a stewing, brewing concoction.
THE DEAD ZONE at Putnam Place
DEADGRASS and FRIENDS
HUDSON VALLEY, NY
Garica-Isnpired Acoustic & Electric
Grammy-winner C Lanzbom leads his popular cast of the lower-Hudson's crack players into the Fest's DEAD ZONE room for a night of  creative interpretations of songs made famous by the Dead, JGB, Old and in the Way and other cosmic cowboys.
HALFSTEP
518, NY
A Grateful Tribute
The early show here belongs to regional Dead faves HALFSTEP, and they bring their expanded big band format into the Dead Zone for a rare sighting. Get their before they hit the stage, and make a request: one which they might even deliver!
THE COUNTRY MUSIC PARTY at City Center 'A'
KEVIN RICHARDS
COUNTRY KICKERS
Line Dance lessons and practice by the 518 's Mr Country, Kevin Richards.
Two sessions, before and after the first band: Grit N Whiskey. So you will have a live act with which to put your new skills to work!
JENNY GRACE BAND
RISING COUNTRY STAR
Nashville's Jenny Grace embodies a similar country persona to the country badasses of the last century, having grown up lower middle class with a rebel soul, Mama definitely tried.
Right out of the gate with her hit song Driving With the Top Down, followed up with a British CMA nomination and a string of 'Show Stealing' support dates, Jenny Grace and her sharp bandmates are charted on a course to being the Country Music's Next Big Thing.
GRIT-N-WHISKEY
COUNTRY COVERS
The long-running and popular Grit-N-Whiskey will start the party with selections from their deep playlist of the modern country hits that you love to dance to.
North Country Music Awards 2017 Winner.
THE CELTIC PUB at The Parting Glass
MAGGIES CLAN
UPSTATE NY
High-energy Celtic rock will be thrown down by this seven-piece powerhouse.  The focus is on clever and hard-hitting originals, along with samplings of traditional Irish and Scottish classics.  No prisoners will be taken here; making Maggies Clan the perfect closing act at the world-famous Parting Glass Pub.
TRISKELE
EIRE
Triskele not only revitalizes the Gaelic language but weaves history and traditions about growing up in Ireland, delivering a deeper appreciation and understanding of Irish/Celtic history.  Fans enjoy hearing songs sung with the unique qualities of the female voice. Not only can these ladies sing but they are also talented multi-instrumentalists.
ADDITIONAL ACTS
FEATURED SINGER-SONGWRITER
Jeffrey Gaines
BLUES JUKE JOINT
Peter Parcek Bank
George Fletcher Blues Band
THE JAZZ LOUNGE
Keith Pray Quartet
EMERGING TALENT
Cait Devin
Clare Maloney & the Great Adventure
DISCOVERY ACTS
Kevin Kelly
CLASSIC ROCK
18 Strings of Trouble
Son of a Gun
Need a Place to Stay? We've Got So Many Options!
Book early, so you don't miss out.